Melania Trump just got caught plagiarizing again: This time it was Trump's ex-wife.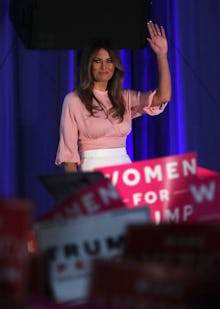 While stumping Thursday in Berwyn, Pennsylvania, for her husband Republican presidential candidate Donald Trump, Melania Trump was caught plagiarizing again. 
It gets worse: Not only was it during her immigrant experience story, but it also appears she was plagiarizing Trump's last wife, Marla Maples. 
Yair Rosenberg, a senior reporter for Tablet Magazine, tweeted the two excerpts after the event.
"I grew up in a small town in Slovenia ... America meant, if you could dream it, you could become it," Trump said during her speech.
In a 2011 Maximum Ink interview, Maples said, "I believed if you could dream it, you could become it, so I didn't see life as having any limitations." 
Rosenberg retweeted — and acknowledged — the find of another Twitter user, Yoni Brander. 
Furthermore, Brander noted that — aside from Trump's speech Thursday — an internet search for "if you could dream it, you could become it" only rendered Maples' interview. 
Ironically, Trump's public appearance Thursday was the first since she came under fire for her speech in July at the Republican National Convention, in which she plagiarized parts of first lady Michelle Obama's 2008 Democratic National Convention speech.
Making matters worse for Melania, The Daily Show called out Trump on Twitter on Oct. 19 for plagiarizing herself, providing uncannily similar answers — both in words and intonation — during interviews about her husband's sexual assault allegations. 
Looks like double trouble.