Former Obama campaign staffers made a video in support of Clinton and it has all the feels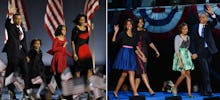 A group of former staffers on President Barack Obama's 2008 and 2012 presidential campaigns have come together to create a heartwarming video, imploring people to vote for Hillary Clinton. 
Elizabeth Jaff, formerly a regional field director across a number of states, posted the video on her Facebook page Thursday morning, with a link to the associated campaign, "Do It for Obama."
"She is an exceptional candidate and there is no choice, but somehow the polls are tightening — everything is at stake including Obama's legacy and all we have fought for," Jaff wrote about Clinton in   her post.
The subjects of the montage entreat their viewers to vote for Clinton for a number of other reasons too — among them, nourishing hope and democracy, electing the first female president and not least for Clinton, herself. 
"Whatever you're doing, stop doing it," one of the Obama alumni says. "Go out and volunteer," another adds, amid a string of similar requests from different people: "Vote." "Please, vote." "Just vote for Hillary, guys."
The video features couples who met on the campaign trail, including Anne Filipic and Carlos Monje Jr., who met while canvassing for the Iowa caucus in 2007; both went onto serve various roles in the Obama administration. 
"I know that Hillary will not only continue on the legacy of all the things that we've fought so hard for under President Obama, but also because of her incredible legacy, the legacy she has built in her own right," Filipic says, while holding the baby she had with Monje. 
"Two good hombres for Hillary Clinton," Monje says in another clip with their infant. 
The video concludes with the words of the president campaigning for Clinton:
"Time and again, you've picked me up and I hope sometimes I've picked you up too. And tonight I ask you to do for Hillary Clinton, what you did for me. I ask you to carry her, the same way you carried me. Because you're who I was talking about 12 years ago, when I talked about hope. It's been you who've fueled my dogged faith in our future."
Using a slogan from Obama's first presidential campaign, Jaff explained the group's motivation for the project: "We made this video — to GOTMFV for Hillary — because 'Yes, we can' and 'Yes, we will!'"