Hillary Clinton brings out the big guns in North Carolina: Bernie Sanders and Pharrell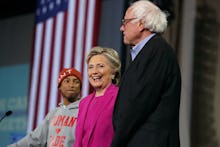 RALEIGH, North Carolina — Hillary Clinton, Bernie Sanders and Pharrell might not be the most likely political compatriots, but the trio whipped a crowd of North Carolinians into a frenzy on Thursday night as the presidential campaign entered its final days.
Pharrell joined Clinton at the Raleigh airport earlier in the evening, emerging from her plane shortly after Republican presidential nominee Donald Trump's aircraft touched down behind them. A few hours later, the artist and former secretary of state were walking onto an outdoor stage with Sanders, Clinton's one-time foe turned political ally.
The crowd of 5,200 roared as Clinton and company walked out shortly before 8 p.m. Eastern against a backdrop of massive letters spelling out "STRONGER TOGETHER" and flanked by young people standing on risers at the Coastal Credit Union Music Park.
The event in Raleigh was Clinton's second stop in the Tar Heel State, following an afternoon rally in Winterville in which she continued to encourage early voting among African-American voters whose early turnout has decreased compared to 2012. Many attribute the drop to Republicans' efforts to cut the number of early voting sites in the state which have disproportionately disenfranchised black voters.
Clinton has been calling in the cavalry during the final days of the campaign, with President Barack Obama campaigning in Florida on Thursday and vice presidential nominee Tim Kaine delivering a speech in Spanish in Arizona. Clinton has a packed schedule from now until Election Day, capped by a Monday night event featuring Bill Clinton, Chelsea Clinton, the president and First Lady Michelle Obama.
In Raleigh, Pharrell addressed the crowd first, slamming Trump over his treatment of women and highlighting the historic nature of Clinton's candidacy.
"How dare anyone question a woman's ability?" the renowned producer and performer said with Clinton and Sanders seated to his left. "Every person on this planet was brought into this world by a woman." 
Pharrell also hinted at what he and Clinton had spoken about aboard her campaign plane and during an unannounced stop earlier in the evening.
"I spoke to her earlier today. She made some commitments," he said. "Whether it's pay equality for women, free public college tuition if your family earns less than $125,000, and, very important to me, addressing mass incarceration."
Sanders also sought to keep voters' focus on the issues.
"I want to begin with a startling revelation. Are you ready for a startling revelation?" Sanders began. "Despite what the media may tell you, this campaign is not about Hillary Clinton. It is not about Donald Trump. It is not about Bill Clinton. It is not about Melania Trump. It is not about their children.
"This campaign is about you and millions of fellow Americans," the white-haired senator bellowed in his thunderous baritone, stressing the "you."
He asked the crowd how many of them were dealing with student debt as hands shot up. The senator said it was "insane and unfair to ask people who did the right thing — they went out and got the education they were supposed to — then they're saddled with student debt, sometimes for decades. 
"Secretary Clinton and I think that that situation has got to change," he added.
The crowd was much more subdued during Clinton's speech. She rattled off her standard lines about her policy agenda and what she said were the dangers of a Trump presidency, giving special attention to the positions that were most important to Sanders and his supporters.
"I really want to thank my friend Bernie Sanders for everything he has done," she said. "When we faced each other in the primary here was what I was so proud about — we ran a campaign on the issues that matter to the American people. I think because of that campaign we were able to raise a lot of the issues that you heard Bernie talking about to the level that they are part of this presidential campaign. And they will be part of our agenda after Jan. 20."
"I've got to say, this election has been a lot more fun now that we're on the same side," she quipped.
Clinton also continued her outreach to African-Americans, recalling Trump's history of housing discrimination and his call for the execution of the Central Park Five.
After about a half hour, Clinton wrapped up, closing out a long day of campaigning.
"We could go on all night. Bernie and I could really keep you here 'til breakfast," she said.
Watch Sanders' full speech below: