Harvard cancels men's soccer after team found to be rating female players' attractiveness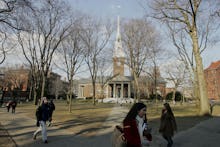 Harvard University has canceled the rest of its men's soccer season following the discovery of a gross team tradition of rating the attractiveness of the school's female players. 
The decision comes after the surfacing, last week, of a so-called "scouting report" from the 2012 men's soccer team — a nine-page document assigning numerical scores and sex positions to each female soccer player. It had been forwarded to the entire men's team — and appeared to be a yearly tradition, according to the Harvard Crimson.
Harvard's Office of General Counsel conducted an immediate review of the 2012 report. 
On Oct. 29, the Crimson published a moving response from Harvard's 2012 female soccer recruits. 
"More than anything, we are frustrated that this is a reality that all women have faced in the past and will continue to face throughout their lives," they wrote. "We feel hopeless because men who are supposed to be our brothers degrade us like this. We are appalled that female athletes who are told to feel empowered and proud of their abilities are so regularly reduced to a physical appearance. We are distraught that mothers having daughters almost a half century after getting equal rights have to worry about men's entitlement to bodies that aren't theirs." 
The investigation revealed that suspicions were correct: The report hadn't been a one-off atrocity. 
In an email to Harvard student athletes, athletics director Robert L. Scalise said he was cancelling the rest of the men's season because the "practice appears to be more widespread across the team and has continued beyond 2012, including in 2016," the Crimson reported.
"As a direct result of what Harvard Athletics has learned, we have decided to cancel the remainder of the 2016 men's soccer season," Scalise's email reportedly said. "The team will forfeit its remaining games and will decline any opportunity to achieve an Ivy League championship or to participate in the NCAA Tournament this year."
The school's president, Drew G. Faust, said in a statement that she "was deeply distressed to learn that the appalling actions of the 2012 men's soccer team were not isolated to one year or the actions of a few individuals."
"The decision to cancel a season is serious and consequential, and reflects Harvard's view that both the team's behavior and the failure to be forthcoming when initially questioned are completely unacceptable, have no place at Harvard, and run counter to the mutual respect that is a core value of our community," the statement said.
The school is beginning to examine whether this type of disgusting behavior takes place on other teams, Faust told the Crimson.