Khloé Kardashian wore those Marc Jacobs dreadlocks — and the internet is not having it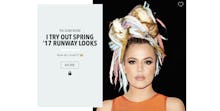 Khloé Kardashian, the Kardashian sister who might love appropriating cultures that aren't her own more than contouring and waist trainers combined, has struck again. 
Three months ago, when she posted a picture of herself wearing bantu knots and her sister, Kylie, posted a picture of herself wearing cornrows mere minutes apart, we thought that was the end of it. 
But no. No, Kardashian has decided to wear yet another hairstyle rooted in black culture. 
This time, it's dreadlocks. 
In a recent post on her website, titled "I try out Spring '17 Runway looks," a photo of Kardashian shows her wearing the same faux, rainbow dreadlocks that Marc Jacobs had his models sport while walking down the runway in September — sparking outrage. 
So yeah, not only is she attempting to wear dreadlocks (a seemingly established "no" for the Kardashian-Jenner clan), but she actually thought it was a good idea to put on the exact style that caused so much commotion (and made Jacobs apologize himself) onto her head for shits and giggles. As if anyone who had issue with the look wouldn't have that same issue now...?
Adding insult to injury, Kardashian went on in her post to say that she despises the look on her. 
"I absolutely despise this on me! I think dreads are really cool but the rainbow combined with the dreads is just too much on me," she wrote. 
Then, Kardashian noted that she loved how it looked on her sister Kendall Jenner, when she wore the faux locs on the Jacobs runway. 
"But how cute is my little Kenny with her dreads walking in the show?! Werk sissy, werk!!" she wrote. 
Needless to say, Twitter has officially had it. 
Mic has reported on why, exactly, people wearing dreadlocks when it's not from a culture that's their own is so problematic. As writer Stephanie Smith-Strickland, who has had dreadlocks for more than eight years, told us, when she sees a white person wearing dreadlocks, it only recalls the privilege that she doesn't have as a black woman with locs. 
"The issue is less the hairstyle and more the dynamics of race and the perceptions of one person doing something and another person doing the same thing to different results," Smith-Strickland said. "If you were a person of color and you had locs, there was an assumption that you were dirty. But now I see non-people of color with loc'd hair, and those assumptions automatically don't come for them." 
An example of this: While Kardashian can write this off as a "trend," people of color have lost their jobs because of their locs and been kicked out of school for them. As one Twitter user pointed out above, when Zendaya wore locs to the Oscars, Giuliana Rancic said that she probably smelled like "patchouli" and "weed." 
And yet, when Kylie Jenner wore dreadlocks, Rancic called them "edgy." 
Of course, this isn't even close to the first time Kardashian has dipped her toe in cultural appropriation. She's publicly worn cornrows several times, worn Native American headdresses several times and, as previously mentioned, attempted to wear bantu knots. 
At this point, especially since Kardashian thought it was a good idea to recreate a look that caused so much backlash against Marc Jacobs, it's almost as if the controversial hairstyles are meant to elicit this sort of negative press coverage. All press is good press, right?
We've asked this question before, but we really still want to know: Are the Kardashians really just trolling us at this point?