Election predictions: Here are the states that could determine the election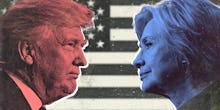 In just four days, everything will change. On Tuesday, Nov. 8, Americans will either elect Hillary Clinton their first female president, or Donald Trump — a first in so, so many other ways.
With everyone looks to the battleground states, it's becoming increasingly apparent that the 2016 election will be unlike anything the nation has seen in recent history. While states like Ohio have historically predicted which candidate will take the White House, this time around, Clinton's and Trump's fates just might be in the hands of voters in Michigan and Wisconsin.
According to FiveThirtyEight's Nate Silver, Trump could find a path to victory if he has a breakthrough in one of these states, which Silver said "are much more likely to swing the election." 
Why Ohio and Florida matter less in this election
In August — albeit, when Clinton had a much higher likelihood of winning the election — FiveThirtyEight reported that the Democratic nominee could sail to victory without the help of Ohio or Florida. 
In simulations of election outcomes, FiveThirtyEight found that the two battleground states "prove crucial less than 30% of the time." Clinton has healthy leads in states like Colorado and Virginia to thank for that.
Indeed, a more recent look at Clinton's nationwide and state-specific polling numbers shows room enough for a victory without either Ohio or Florida.
The states that matter most to Clinton and Trump
Along with wildcards like Michigan and Wisconsin, North Carolina has proven to be a contentious state in the 2016 election. 
On Friday, CNN called North Carolina the potential "state on which the 2016 presidential race turns," highlighting how crucial a win there would be for either candidate. According to the outlet's report on a Quinnipiac University poll, Clinton is currently leading Trump 48% to 46%.
That 2-point lead doesn't fare well for Trump, for whom CNN said the state is "essentially a must-win." What's more, a loss in North Carolina for Trump would mean Trump has "little shot" at critical states like Colorado, Nevada, New Hampshire and Wisconsin, according to CNN — states which FiveThirtyEight shows are most likely to go for Clinton. 
President Barack Obama tried to impress on black North Carolinians the importance of voting in the 2016 election in an interview with a local radio station on Thursday, according to CNN.
"If the African-American vote is strong in North Carolina, then you will decide this election," Obama said.
"Your vote from '08 and '12 will be negated if you don't vote this time out," the president told the crowd. "This is what seals the deal."