Drake and Future reconnect over sports in "Used to This" video. What a time to be alive.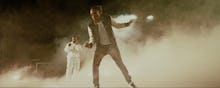 Future, the Actavis impresario, and Toronto's boy wonder Drake have linked back up for another star track, "Used to This," their first together since 2015 luxury rap mixtape What a Time to Be Alive. 
The song is similarly simple and decadent to the mixtape with its diamond-strewn cover, but the two MCs gel more smoothly this time around. Its verses are drenched in boasts about luxury cars and homes with both MCs reasserting that they're the most paid and beloved in the game. 
The song comes paired with a video of a ladies soccer game where all the players are wearing booty shorts. Because even in 2016, booty is still pop rap's most important source of capital.
Drake news on this half of 2016 has read like a who's who in pop and hip-hop. The Canadian superstar has made sure his name has gotten seen next to Kanye West's, Taylor Swift's, Eminem's and Kid Cudi's. 
He's reportedly working to craft new music with the first two names, which the pop world may truly not be ready to handle. He was almost on the verge of being locked in a beef with Slim Shady, before the two squashed the rumor at a Detroit concert. And as for Kid Cudi, let's just say that for all his seeming sensitivity and empathy for the sad, lonely and dejected, that goes out the window if you call him out on Twitter.
Drake seems to nod to one of his recent beefs, like Meek Mill, with the lyrics:
Never looking back on it, we did what we did
The fact that Drake can be simultaneously the most sensitive, most ruthless and the pettiest rapper in the game right now is hard for one to wrap their mind around. But as his latest single proves, he's still on top, and we may just have to get used to that.
Watch the full video of the new single below.