Everything you need to know about Zendaya's inclusive clothing line, Daya by Zendaya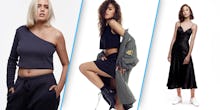 It was only a matter of time until Zendaya came out with her own clothing line. 
She has had, after all, iconic fashion moment after iconic fashion moment, from that white Vivienne Westwood dress at the Oscars, to that slinky gold Michael Kors number at the Met Gala in 2016. She's never shied away from taking a risk with fashion or style either, changing up her hair from dreadlocks to a pixie cut to a bowl cut that she, rather miraculously, totally pulled off. 
So it only makes sense that her clothing line, Daya by Zendaya, which dropped on Thursday online and on Nordstrom.com, also attempts to disrupt fashion's status quo, starting with the fact that for a celebrity collection, it's incredibly inclusive and accessible. 
The garments, from jumpsuits to blazers to pants, range from XS to XXL, which Vogue notes is size 0 to 22. All of the garments and shoes are also priced under $160. 
Compare that to her much more expensive contemporaries, including Kanye West's Yeezy or Gwen Stefani's L.A.M.B.
Zendaya's attention to detail and inclusivity even seems to extend to the models, many of whom, although not plus size, are above size 2. Zendaya also made a concerted effort to show women of various different shades as well. 
As far as how the collection looks, there are certainly nods to streetwear, with heavy green army jackets and velvet jumpsuits, as well as bomber jackets, satin slip dresses and baggy sweatshirts. 
With this line, according to Vogue, Zendaya wasn't trying to chase trends, but make them. "We just don't believe in them, we don't believe in what's hot now because you can't stay on top of all of the constant changes in fashion," Zendaya said. "It's just impossible." 
So maybe that's why this collection feels particularly fresh. 
In addition to dresses, jackets and separates, Daya by Zendaya also includes a number of shoes, from platforms to graphic heels and flats. 
Zendaya clearly designed with her fans in mind, offering them an inclusive collection of everything from jumpsuits and jackets to dresses and lounge pants. 
Overall, it's a job well done.