Kid Cudi fans sign petition urging Drake donate dis track money to mental health charities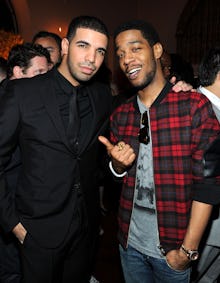 As much as Drake may want to forget the way he mocked Kid Cudi's mental health issues on "Two Birds One Stone" to become late 2016's king of fuccbois, Cudder's fans aren't going to let him. 
Over 7,000 people want reparations for the brutal way Drake targeted Cudi's admission he was checking himself into rehab, rather than hit on any other aspect of Cudi's life or person. They have signed a petition on Care 2 Petitions demanding that Drake donate the proceeds from the track to mental health charities.
On the "Two Birds One Stone" bars in question, Drake characterizes Cudi's depression as another one of his "phases" and positions Cudi's alleged drug abuse as a way to escape the reality that Drake is "the greatest."
You were the man on the moon
The lines did not sit well with many of Cudi's and Drake's fans, or anyone who had been moved by the way Cudi's admission had empowered others to come forward to discuss their own mental health issues.
"Mental health is not a joking manner," the petition reads. "According to Mental Health America, the most common disorder amongst suicide victims is depression. Depression or bi-polar disorder affects about 30% to 70% of suicide victims."
Funkmaster Flex, who previously attempted to undermine Drake by releasing reference tracks suggesting Drake leans on ghostwriters, shared news about the petition early Friday morning.
Considering the fact that the packaging of every Drake album makes slight allusions to suicide, and his bars often detail the feelings of isolation and stagnation that come with depression, one would think that Drake would have more sympathy for Cudi's issues. 
Perhaps this petition will help get the message across. Yet the fact Drake hasn't deigned to back down yet seems suggest it's unlikely charities will be seeing a dime of Drake's Views money.