Presidential Polls Today: Nov. 4 polls show Hillary Clinton ahead — but not by a lot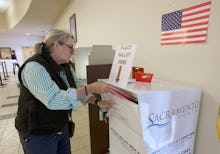 With just four days to go until the United States presidential election, polls indicate Democratic nominee Hillary Clinton is still holding onto her flimsy lead over Republican rival Donald Trump — but not by much.
What do the polls say?
According to RealClearPolitics, Friday's ABC News/Washington Post two-way tracking poll shows Clinton leading by 3 points in the general election — up 2 points from the 1-point lead the same poll reported her having on Tuesday.
Of the three two-way general election polls released at time of writing on Friday, Clinton was ahead in two of them, with only the Los Angeles Times/University of Southern California Dornsife tracking poll placing Trump ahead of Clinton by a four point lead.
Clinton's campaign has taken a hit
Polls might show a favorable outcome for Clinton now, but her campaign has taken a hit in the past week after FBI Director James Comey made the bombshell announcement that investigators are examining new emails possibly related to the investigation into Clinton's email scandal. 
With time running out before the nation heads to the polls, the only small mercy is that we won't have to wait long to find out how this wild ride of an election comes to a close.