'The Walking Dead': How to watch season 7, episode 3 online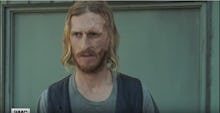 Did you have a good time at the Kingdom, meeting the charismatic, yet ostentatious King Ezekiel and his awesome pet tiger Shiva? Good, because the third episode of The Walking Dead looks like it will get back to its unpleasant roots with our first look at the Sanctuary, the safe haven Negan and his Saviors call home. 
But for Walking Dead fans without a television — who have yet to quit the show even though it's only going to crush your soul — how can you watch the third episode online? 
Sadly, those without a cable subscription have limited options. The first six seasons are available on Netflix, but don't expect any of season seven on the streaming service until 2017 (and Hulu's partnership with AMC only includes the show's spinoff series, Fear The Walking Dead). Individual episodes for season seven, however, can be purchased on iTunes the day after the episode airs. 
If you can't watch on Sunday night, AMC will have the third episode, "The Cell," available to stream for free the day after it airs. In other words, if the zombie fan in you can wait until Monday, you're all set. 
But we can't promise the episode will be pleasant. If it's focused on the Sanctuary — much like the second episode was exclusively set at the Kingdom — you won't get another sight at Shiva. Shiva's the best part of the zombie apocalypse and it's not even close. Shiva sunbathing on a porch will melt your icy, zombie-obsessed heart.