Samsung recalls nearly 3 million washing machines after one literally broke someone's face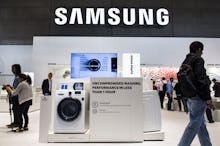 As if phones exploding into fiery metal confetti wasn't enough, now Samsung has jaw-breaking washing machines on its conscience. 
The company is recalling about 2.8 million top-load washing machines due to "excessive vibrations." Also, some of the tops are flying off. 
"The washing machine top can unexpectedly detach from the washing machine chassis during use, posing a risk of injury from impact," states a report from the Consumer Product Safety Commission.
There are nine injuries reported, which include a broken jaw and an injured shoulder, among others. Samsung has received 733 reports of issues with these machines in total. 
The recall spans 34 models — specifically the top-load washing machines — sold as early as March 2011. Consumers with one of these Samsung machines have three options: a free in-home repair to make sure the top of the washer won't fly off and hit you in the face; a rebate for another washing machine, which includes free installation and removal of the jawbreaker; or a full refund if you bought your machine 30 days before the recall or less.
For Samsung fans, 2016 has been a dangerous year to make a phone call and throw in a load.