How to automatically delete old text messages to save space on your iPhone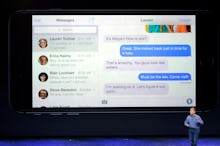 An iPhone's space is finite, and one of the easiest ways to fill storage is a steadily increasing inventory of text messages. We don't always remember to delete old messages, though. Apps are larger and often get the ax first. Or maybe we keep texts because of nostalgia, or just because we forgot that it's an option to get rid of them in the first place. Fortunately, you don't need to remember if you have an iPhone. 
How to automatically delete iMessages
You can set the Messages app to delete texts after a period of time. This will do wonders for saving space on your phone.
Head to the Settings app and select Messages. Scroll down to Message History and tap on Keep Messages. You'll see a menu with three options. By default, it's set on "Forever," but you can set the iPhone to delete messages automatically after 30 days or a year. 
Keep in mind that if you select one of these options, your iPhone will immediately delete anything past the time you choose. 
How to make audio messages automatically expire
Another lesser known feature allows iPhone users to set expiration periods for audio messages. This is particularly useful because these types of messages take up more space on your phone.
Just like before, head into Settings and tap Messages. This time, scroll down to Audio Messages and select Expire. If you'd like, you can set an automatic expiration after two minutes. 
That's all there is to it. Enjoy the extra space.