Thanksgiving leftovers recipes: All of the delicious things you can make the day after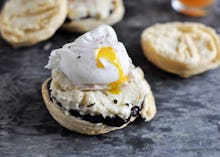 Thanksgiving is great and all, but the real feasting comes the following weekend, when you're overloaded with leftovers ready to live a second, third or fourth life. 
Soups, sandwiches, stews and more accentuate the flavors of Thanksgiving long after Turkey Day and yeah, you'll be wishing you had more leftovers to play around with. Here's what to do with all those Tupperware containers of turkey and potatoes hanging out in your fridge. 
Thanksgiving leftovers breakfast burrito
You barely need a recipe for this one — just roll up all of your leftover turkey and sides in a warm tortilla with a scrambled egg, and you have a breakfast burrito. Just in case you do want some guidance, get the recipe here.
Turkey breakfast tacos
If you're more of a taco person, turkey works for breakfast tacos too! Get the recipe here.
Leftover Thanksgiving breakfast biscuits
Turn those uneaten dinner rolls (or freshly baked biscuits, if you're up for it) into a tasty brunch creation in less time than it takes to carve a turkey. Get the recipe here.
Leftover Thanksgiving turkey ramen
Take some of that leftover turkey, a fresh egg and some bacon and you'll have a comforting bowl of noodles to slurp up. Get the recipe here.
Grilled turkey, cranberry, avocado and brie sandwich
Put that leftover cheese plate to work with this decadent, melty grilled cheese that makes your leftover turkey breast anything but dry. Get the recipe here.
Thanksgiving turkey gumbo
Leftover turkey, cranberries, gravy and mashed potatoes all get a second life in this spicy gumbo that will keep you full through the rest of November. Get the recipe here.
Leftover Thanksgiving turkey pot pies
Individual pot pies turn your leftovers into even cozier comfort food. Get the recipe here.
Thanksgiving pizza
Before you give up on your leftovers and call in your favorite pepperoni pie, try making a pizza out of your Thanksgiving feast! You'll wish your local slice joint had some turkey toppings when your fridge runs out. Get the recipe here.
Leftover turkey and cranberry sauce salad
If you're looking for a quick lunch to pack up next week, make this leftover turkey salad that can be spread on toast, made into sandwiches or used as a topper for green salad. Get the recipe here.
Leftover potato arancini
These Italian rice balls get a starchy makeover when your leftover mashed potatoes become tasty bites of fried happiness. Get the recipe here.
Thanksgiving poutine
Swap out the leftover mashed potatoes for fresh French fries to be topped with cheese curds, your leftover greens and turkey, all smothered in gravy. Get the recipe here.
Day after Thanksgiving rye steamed buns
Pack all your best leftovers into this homemade steamed bun that mixes dim sum with Thanksgiving for your best day-after meal yet. Get the recipe here.
Leftover cranberry sauce parfaits
You don't have to squish all your leftovers into one massive dish. This simple parfait elevates your cranberry sauce to a new and, dare we say, healthy level. Get the recipe here.