Chris Christie aides found guilty on all charges in Bridgegate trial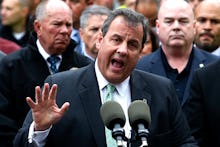 Two former aides to New Jersey Gov. Chris Christie, a top surrogate and supporter of Republican presidential nominee Donald Trump, were convicted by a federal jury of closing lanes on the George Washington Bridge in 2013 as a means of political retaliation.
Christie's former Deputy Chief of Staff Bridget Anne Kelly and former Port Authority official Bill Baroni were found guilty on seven charges of conspiracy and fraud in the plot, which was meant as an act of political retaliation against the Democratic mayor of Fort Lee, who refused to endorse Christie's 2013 gubernatorial re-election campaign.
During the trial, the two aides testified under oath that Christie knew the lanes were being closed as a means of political payback against the Fort Lee mayor.
Christie, on the other hand, has denied having any knowledge of both the closures or the motivations for them in multiple public statements.
The convictions now roil the 2016 presidential campaign, just four days before Election Day.
Not only is Christie a top supporter of Trump, he's also tasked with heading up Trump's transition operation — putting him in charge of finding and vetting potential cabinet officials and top-level White House staffers.
Christie is also slated to hit the campaign trail for Trump in the home stretch of the race, with stops slated in New Hampshire and Pennsylvania on Saturday.
Christie was also high on the list of potential vice presidential running-mates for Trump. Trump reportedly offered Christie the VP role, according to the New York Post, before rescinding the offer.
Even more ironic is that Christie is responsible for helping spark the "lock her up" chant against Hillary Clinton that now echoes through Trump campaign rallies. The chant was birthed during Christie's prime-time speech at the Republican National Convention, in which he held a "mock trial" against Clinton.
Now, however, it's aides to Christie who may be the ones locked up.
And with Christie implicated in testimony for the trial, it's possible legal troubles could be on the way for him, too.