Here's why Los Angeles' "anti-white" graffiti shouldn't be investigated as a hate crime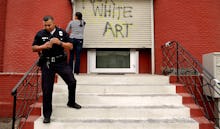 Three art galleries in Boyle Heights, a rapidly gentrifying Latino neighborhood in Los Angeles, were vandalized in October with what authorities are calling "anti-white" graffiti. According to the Los Angeles Times, one instance involved the phrase "Fuck white art" spray-painted across Nicodim Gallery's storefront grate.
Police are now investigating the string of vandalisms as possible hate crimes.
"We don't know who actually did [the vandalism], but because it actually made a reference to anti-white art or anti-white ... it's a hate crime," Detective John Parra of the Los Angeles Police Department told the Times.
Over the last three years, a dozen art galleries like Nicodim have cropped up in the neighborhood to the chagrin of Latino residents who fear rising property and living costs will soon push them out. 
"From the tagging that kills people and promotes gang violence to the political tagging that denounces a process of gentrification — I'd rather take the latter," Leonardo Vilchis, a Boyle Heights resident who helped establish community group Union de Vecinos, told the Times. Vilchis said he didn't want to denounce the protests against gentrification, calling them a "part of political speech."
It may seem weird to refer to graffiti or vandalism as "political speech," but it's certainly an improvement on identifying the recent anti-white messages as a "hate crime."
However, the LAPD may be just following the letter of the law — which, according to the FBI, dictates that any "criminal offense against a person or property motivated in whole or in part by an offender's bias against a race, religion, disability, sexual orientation, ethnicity, gender, or gender identity" qualifies as a hate crime. But that doesn't mean this case isn't in the need of some dire nuance.
While a declaration like "Fuck white art" certainly pinpoints members of a particular race, it's targeting a dominant group, rather than a minority one. When hate speech is wielded against people of color, LGBTQ people or women, there's much more at stake — in many cases, their lives. 
On Wednesday, a black church was set ablaze in Mississippi with the words "Vote Trump" graffitied on the building. The church is just one of many predominantly black churches that have been the target of vandalism and worse — among the worst being the 2015 church shooting in Charleston, which resulted in the deaths of nine black parishioners. 
Meanwhile, on Thursday, a Florida mosque was vandalized with Islamophobic graffiti, part of an escalating pattern of anti-Muslim attacks on mosques, which have quadrupled from 2014 to 2015. These hate crimes have not only resulted in destroyed religious spaces, but the deaths of Muslims themselves.
For the same reason that "reverse racism" doesn't exist, hate crimes against dominant groups don't, either — and it has everything to do with power. As Elite Daily writer Alexia LaFata explained in 2015:
Hate crimes against blacks area trend that's deeply embedded within our system of historical and cultural racism. This means there's a different meaning when whites, the privileged majority, commit crimes against blacks, the disadvantaged minority.
In Boyle Heights, Latino people risk losing their community to gentrification; in the face of anti-white graffiti, white people risk only hurt feelings.
Mihai Nicodim, the owner of Nicodim Gallery, told the Times he thinks protesters in Boyle Heights should pick a different target to advance their cause.
"I understand gentrification is a real issue," Nicodim told the outlet. "But I also think some of these activists, they should ... maybe go to City Hall to get affordable housing from them. They should protest against developers." In another interview with a local ABC station, Nicodim simply said, "I'm not leaving."
Anti-gentrification activists aren't likely to budge, either.
"We want these galleries out," Xochitl Palomera, a member of community organization Corazón Del Pueblo, told the Guardian. "We've been experiencing oppression for hundreds of years. We're not going to take this sitting down."
Mic has also reached out to Nicodim Gallery for comment and will update this story if we hear back.