Lana Del Rey may soon surprise the world with new music. Here's we know about "Wild Side."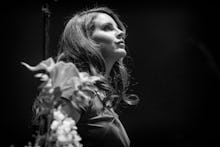 Pop's most mysterious femme fatale, Lana Del Rey, may have just gotten caught slinking her way back into the spotlight. Earlier this week, Elizabeth Grant, Del Rey's real name, added a new song credit to the ACE Repertory, a directory of songwriting and composition credits for U.S. artists.
Titled "Wild Side," the song features contributions from one Greg J Banks. Some Lana fan accounts and publications have recently attempted to identify that collaborator as Greg Banks, a rising funk and soul singer out of New Orleans, however a representative from Banks' camp denied the rumor, saying the two artists have not been in contact.
Whatever "Wild Side" is, it's the first sign of new music out of the Del Rey camp since 2015's Honeymoon, which showed her heading even deeper into her California goth sound. The title alone suggests she is looking to dig further into the darker, liberated half of her meticulously crafted noir persona. Yet, of course, with Del Rey, it's always safest to expect the unexpected. 
A scattering of evidence suggests there may be a lot more than one track on the way. Here's everything we know about what Del Rey has been up to the past year.
She hasn't confirmed a release date or a title, but rumors of an album abound.
There have been speculation about new music ever since March, when she shared an Instagram of her in the studio with the caption "Every day." A year is a pretty fast turnaround time for a new album, but according to a leak from a DJ from Philadelphia radio station WZMP, November signals the start of Del Rey season.
According to Paper magazine, Philly DJ Mike Adam said we'd see a new "album next month," which would be November, but the tweet has since been deleted. "You ready!?!" he asked.
Lana Del Rey may be returning to the "New York" sound of Born to Die.
In an interview with NME published in December, the noir star confirmed she had "early thoughts about what I'd like to do with [the next album]," adding that her label wouldn't stand in their way of her releasing at an odd time:
"My label, Interscope, is pretty flexible and open to my records coming out at any time, so I don't have that pressure. I'm just happy to be able to keep on making music I can stand behind. That's enough for me."
She also said she could see herself revisiting the Born to Die aesthetic, which she described as a New York sound.
"I could see me making another New York record," she said to NME. "I think it would be different just because it would be a little harder, faster, more upbeat and less dreamy."
She's working with the same producer she did for the biggest single off Born to Die, "Video Games."
When Justin Parker and Del Rey link up, magic happens. The songwriter, who also has writing credits with Rihanna, Ellie Goulding and Bat for Lashes, has helped pen some of Del Rey's biggest hits, including "Video Games," "Born to Die" and "National Anthem." 
After Born to Die, the two took a bit of break from collaborating, but according to an Instagram snapped exactly a year ago, they're back in the studio again for another round. 
And so the Lana Del Rey watch begins, and it appears the star is watching back. The day news started to spread about her "Wild Side" single, she tweeted an approving heart and commented on her own Instagram post with the same.
Lana loves you. Stay tuned. 
Nov. 6, 2016, 11:43 a.m.: This story has been updated.