'Overwatch' Sombra BlizzCon 2016 announcement: Full abilities, video and more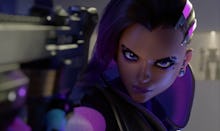 Sombra is here! Blizzard finally revealed the highly anticipated new Overwatch character at BlizzCon 2016 on Friday afternoon through a new animated short. The reveal will come as quite a relief for fans who have been hunting for clues about her through Blizzard's months-long alternate reality game, in which hints and clues about her were sprinkled in various corners of the internet.
Mike Morhaime, CEO of Blizzard, described Sombra in a short presentation following the reveal as a "stealthy offensive infiltrator."
"I'm sure no one saw that coming," Morhaime joked on stage after Sombra was unveiled, referencing the months-long ARG and several Sombra leaks that have hit the web in recent weeks.
Sombra is playable for those attending BlizzCon, but she'll be available for everyone on the public test realm next week. Also hitting the PTR next week will be a new "Arcade" game mode, which will have "new game modes, new rulesets, and exclusive maps," one of which is called "Eco Point Antarctica." 
Another new map, called "Oasis," will hit the PTR in December.
New Sombra Overwatch animated short
Here's the animated short that Blizzard showed on stage at BlizzCon to reveal Sombra.
Sombra's full ability list
Blizzard's website has been updated with specific information about Sombra's abilities, which says, "Her hacking can disrupt her enemies, ensuring they're easier to take out, while her EMP provides the upper hand against multiple foes at once. Sombra's ability to Translocate and camouflage herself makes her a hard target to pin down."
Blizzard released a new video in addition to the animated short that shows all her abilities in action.
Here are those abilities, listed out in detail:
1. Machine Pistol — Sombra's standard attack is a machine pistol with a "short-range spread."
2. Hack — Sombra can temporarily stop abilities, including other player's Ultimates. Hack can also be used on specific med-pacs, rendering them useless to the enemy team for a short time. 
3. Thermoptic Camo — This ability makes Sombra invisible for a short time, during which her movement speed is boosted considerably. Attacking, taking damage, and using abilities will interrupt this effect.
4. Translocator — Sombra can instantly teleport to this device, meaning that she could theoretically throw it behind enemy lines, or leave it in a safe spot to escape when things get hairy.
5. EMP — Sombra's ultimate ability hacks all enemies around her, preventing them from using any abilities for a short time. Additionally, EMP destroys all barriers and shields around her — that includes Reinhardt's giant shield, Winston's domed barrier and the portion of a character's health bar made up of shields, which includes shields provided by Lúcio's ultimate ability.
Though it doesn't show it in the video, Blizzard also discussed another of her abilities that allows her to see enemies through walls — like Widowmaker's ultimate or Hanzo's sonic arrow — when they have less than half their health. 
Sombra is categorized as an offense hero with a three star difficulty level.
The Sombra ARG had fans scouring the internet for clues
The biggest question on the minds of Overwatch players leading up to BlizzCon was whether Blizzard would finally unveil Sombra, a character fans have been hunting for through an alternate reality game that has them solving riddles and searching for clues in various corners of the internet.
In recent weeks, the Sombra ARG has ramped up considerably in a new phase of the ARG that involved Sombra disrupting the debut of LumériCo's new nuclear power plant in Dorado. 
That particular chapter seems to have come to a close, so fans had their fingers crossed that Blizzard would finally bring her out into the open.
Blizzard has another panel late Friday afternoon where it's expected to delve into more detail about Sombra and the new arcade mode. Mic will keep you updated.
This story is developing.