Hosting Thanksgiving for the first time? A recipe guide that's simple and delicious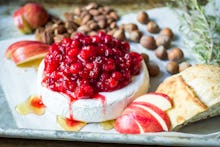 Congrats, you're hosting your first Thanksgiving dinner! If you're doing it right, your friends and family have offered to bring over some sides and desserts (if not, find new friends — stat), but you still need to impress with your turkey and whatever food you're serving in your first-ever feast.
Don't let your store bought pie slink into the corner of shame with greyish-gooey casseroles and poorly prepared veggies, you can do so much better. These holiday recipes are easy enough to make on Thanksgiving Day — you won't even need a back-up lasagna in the freezer. Welcome to adulthood! Here's your menu:
Thanksgiving appetizer ideas
The key to any great dinner party is having something ready to munch on as soon as your guests arrive.
Baked brie with chipotle-cranberry sauce
This easy to prep cheese is a great way to lure in your guests with hints of how tasty your meal will be. Melty cheese? Check. Spicy sauce? Check. Serve with crackers or crusty bread. Get the recipe here.
Maple roasted nuts
These sweet nuts takes all of five minutes to make and will turn your home into a sugary wonderland that your guests will never want to leave. Get the recipe here.
Thanksgiving cocktails
Sure, you could open a bottle of wine or invite guests to help themselves to beer from the fridge, but serving a signature cocktail or punch amps your dinner up a notch with barely any work. If you're feeling overwhelmed with cooking, ask a friend to volunteer as the bartender for the night. Tips are paid in leftovers.
Pomegranate kombucha margarita
Not only is pomegranate so wonderfully seasonal, fermented kombucha will at least work as a placebo for easy digestion. A healthy tequila cocktail to get you buzzed and prep your stomach? Keep them coming! Get the recipe here.
Cranberry orange prosecco cocktail
Like a mimosa, but with cranberry, this sparkling seasonal drink is a great way to toast the official start to the holiday season. Get the recipe here.
Thanksgiving salad
With so many heavy foods at Thanksgiving, it's nice to give your guests a break with a light and fresh salad. Bonus: Salad is super easy to make and will fill you up on some healthy greens before you totally indulge.
Raw kale salad with warm bacon vinaigrette 
Serving bacon at Thanksgiving will ensure that you're hosting every year. Be warned. Get the recipe here. 
Warm brussels sprout salad
This dish is a cinch to make, and throwing in some dried cranberries will look both seasonal and elegant. Double points. Get the recipe here.
Thanksgiving soups
There's something about having a special soup course that makes a meal feel even more special. Plus, you can make the soup weeks in advance (find tons of soup recipes here!), freeze it and defrost it in a pot just before dinner, so it's yet another course you won't have to prep on Thanksgiving day.
Chai spiced apple sweet potato soup 
Even a small bowl of this subtly sweet soup will help everyone relax and get cozy before the big feast. Plus, the soup slurping buys you some time with all your guests at the table to make sure everything in the kitchen is good to go. Get the recipe here.
The Turkey
The icon of Thanksgiving, the turkey, will be your most ambitious cooking project, but it's not that difficult as long as you pay attention to the temperature and timing. Plus, any mistakes can be covered up with gravy and cranberry sauce.
Herb and butter roasted turkey with white wine pan gravy
A cheesecloth is key to keeping the skin crispy on this giant bird, but as long as you follow the recipe, it's hard to make mistakes. Plus, the white wine gravy gives you an open bottle of wine to enjoy while you cook... Get the recipe here.
Lemongrass braised turkey legs
If making an entire turkey seems too daunting or takes up too much oven space, opt for turkey pieces, which can be braised stovetop and may make you wonder why anyone bothers cooking a whole turkey in the first place. Get the recipe here.
Thanksgiving side dishes
Sides are the stars of Thanksgiving. No one cares if the turkey is dry or the appetizers kind of sucked as long as your sides are good. Pro tip: Use butter. Buy at least a stick per person at the store and your sides will keep everyone happy and stuffed.
Homemade stovetop stuffing
You could open a package of Stovetop or you could easily whip up some homemade stuffing yourself and yes, your guests will taste the difference and love you forever. (Also, no harm in serving both.) Get the recipe here.
Cinnamon apple cranberry sauce
Add some autumnal flavors Thanksgiving's most important condiment. Get the recipe here.
Roasted green beans with romesco
These green beans are quick and easy to make but the spicy romesco sauce and slivered walnuts add another level of flavor and texture to keep your meal from being too single toned. Get the recipe here.
Pan fried asparagus
This asparagus takes fewer than 15 minutes and only three ingredients to make. It can be quickly reheated in the pan after the turkey is carved, so don't worry about timing too much. Get the recipe here.
Roasted seasoned winter squash medley
Turn on a re-run of your favorite sitcom while you peel, cube and season this squash that's almost mindless to make and pop in the oven. Just like that, another course! Prep this dish the night before to make Thursday even less stressful. Get the recipe here.
Easy slow cooker mashed potatoes with goat cheese
These potatoes practically cook themselves in your slow cooker while you prep everything else. Bonus: goat cheese (or cream cheese, if you prefer) makes them extra creamy. No one will complain. Get the recipe here.
Sweet potato casserole with brown sugar topping
Tease dessert with this sugary sweet potato casserole that's quicker to make than individual sweet potatoes. Hoard some in the kitchen for leftovers. Get the recipe here.
Thanksgiving dessert ideas
Dessert is a great category for your guests to chip in with a pie, homemade cookies or whatever, but as long as you have your oven running bake a cake! Literally everyone is obsessed with you after this meal. 
Pumpkin layer cake with cream cheese frosting
This cake looks stunning whole and sliced and it's much easier to make than a homemade pie or any individual desserts. Get the recipe here.
Happy Thanksgiving! You did it!