Dave Chappelle to host 'SNL' with musical guest A Tribe Called Quest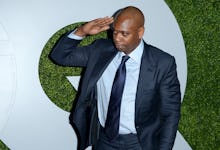 Dave Chappelle — beloved comedian and former host of his self-titled Comedy Central variety show, Chappelle's Show — is getting ready to ready to sharpen his sketch game with his Saturday Night Live debut.
The standup is scheduled to host the show's Nov. 12 episode alongside musical guests and fellow SNL first-timers A Tribe Called Quest.
Although Chappelle doesn't seem to be promoting anything at the moment, Tribe's performance will come just days after the release of their final studio album: We Got It From Here, Thank You For Your Service. The album will include contributions from rap legend Phife Dawg, who died earlier this year from complications due to diabetes.
Though Chappelle has remained a reliable presence on the standup circuit over the past few years, fans will remember that he famously abdicated his comedy throne in 2005, walking away from his self-titled show and retreating to South Africa with his family to avoid the ensuing media frenzy. He's joked about abandoning his show on a few occasions since. In 2014, he expressed mixed feelings over whether his decision in an interview with Dave Letterman:
You know, because when you quit, like my friends will try to make me feel better, but no one has been through that, so they'll say... "You know, Dave, at the end of the day, you still have some integrity." That's great. I'll go home and make the kids some integrity sandwiches!
How Chappelle's unflinching, race-conscious comedy will fit with SNL's primetime network sensibilities remains to be seen, though the show's recent "Black Jeopardy" sketch did come pretty close to the Chapelle's Show levels of hilarity and insight. Fans are already seeing greatness on the horizon.
Lord knows that we'll all be in need of laughter after the election Tuesday. Seeing throwback legends like Chappelle and A Tribe Called Quest taking the SNL stage together for the first time, may be just the thing to save the garbage fire year 2016 from itself.