New Hampshire election results live: Latest updates in the Clinton vs. Trump election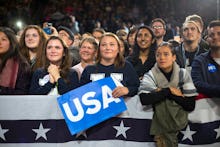 The earliest votes cast in New Hampshire, where communities with fewer than 100 residents can open voting at midnight, put Republican nominee Donald Trump ahead of Democratic nominee Hillary Clinton. The number of New Hampshire voters included in the early rural community count, however, was admittedly small — fewer than 100, according to USA Today. 
On Tuesday, voters in New Hampshire, a key battleground state, will go to the polls to cast their votes for president. Many outsiders are eyeing New Hampshire (and its four electoral college votes) closely  — in eight of the past nine presidential elections, the eventual president has won New Hampshire. 
And while its approximately 1.3 million residents only contribute four electoral votes, the state was key to Republican nominee Donald Trump's electoral strategy. Currently, Democratic nominee Hillary Clinton edges Trump in New Hampshire by an average of 3.4% in the latest polls, according to Politico. 
A month ago, Clinton led by 5 percentage points in New Hampshire. But the race in the state tightened remarkably in the final two weeks leading up to Election Day. Many polls in the last week of the campaign showed the state tied or slightly favoring Trump. Such a swing in support is more consequential in a state like New Hampshire because the state sees far fewer votes cast during early voting than other battlegrounds. 
This story will be updated throughout the day. Check back for the latest election results. 
Nov. 8, 2016, 1:10 p.m. Eastern: This story has been updated.