'Rolling Stone' found guilty of defamation for UVA sexual assault story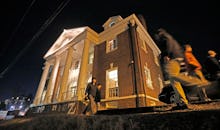 On Friday, a jury found Rolling Stone, and reporter Sabrina Rubin Erdely, guilty of defamation for its 2014 story detailing a sexual assault case on the University of Virginia's campus involving a pseudonymous student named Jackie. 
After investigations by police and outlets like the Washington Post found significant discrepancies in Jackie's account — including that the fraternity party where she said the assault happened did not occur the night she alleged — the magazine retracted the story. 
UVA administrator Nicole Eramo, who oversaw campus assault cases at the time, filed a suit against Rolling Stone and Erdely shortly after, protesting her portrayal in the piece. 
According to a Washington Post report on Friday's developments, the trial saw 180 pieces of evidence and heard the video testimony of Jackie, whose identity remains unknown. After deliberating for three days, the jury delivered its guilty verdict.
But the case isn't closed just yet: According to the Post, the jury will continue to examine evidence and make judgments as jurors consider the $7.5 million in compensation Eramo requested.
"In our desire to present this complicated issue from the perspective of a survivor, we overlooked reporting paths and made journalistic mistakes that we are committed to never making again," Rolling Stone said in a statement reported on by the Post. 
"We deeply regret these missteps and sincerely apologize to anyone hurt by them, including Ms. Eramo," the statement continues. "It is our deep hope that our failings do not deflect from the pervasive issues discussed in the piece, and that reporting on sexual assault cases ultimately results in campus policies that better protect our students."