Donald Trump elected president of the United States in an upset for the ages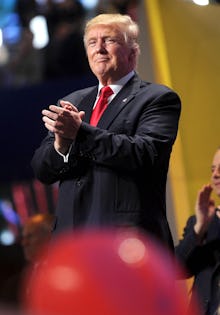 In a monumental upset that will send shockwaves around the globe, Donald Trump defeated Hillary Clinton Tuesday to become the next president of the United States.
The Associated Press called the race for the Republican real estate kingpin and former reality show star at 2:31 a.m. Eastern.
Clinton, the former secretary of state and the first female presidential nominee of a major party, will not speak until later Wednesday at the earliest, after campaign chairman John Podesta told supporters there she would not speak on election night. The Democrat did call Trump to acknowledge his victory, however.
"I've just received a call from Secretary Clinton. She congratulated us — it's about us — on our victory, and I congratulated her and her family on a very, very hard-fought campaign," Trump said after Clinton's concession call. "We owe her a major debt of gratitude for her service to our country. Now it's time for America to bind the wounds of division."
"I pledge to every citizen in this land that I will be president for all Americans, and this is so important for me," Trump added, seeking the "guidance and help" of those who didn't back his often-incendiary candidacy.
As Trump's fans rejoiced at his victory party in midtown Manhattan, in New York City, and across the country, Clinton supporters were left by turns stunned and horrified at the outcome.
Trump claimed his November victory about 17 months after his leap into the race was widely jeered as either a shameless publicity stunt or the unattainable fantasy of an egomaniac.
Before he got to face off against Clinton, the New York billionaire first went from joke to juggernaut in a vicious GOP primary.
Trump, a novice candidate but an experienced self-promoter with a flare for lobbing memorable insults, quickly became a focal point in a Republican field jammed with seasoned politicians.
He rallied support by virtue of his celebrity, his ruthless slash-and-burn rhetoric and campaign promises that galvanized the extreme right of the party faithful and legions of new voters — and immediately led detractors to label him a dim and dangerous bigot.
Among Trump's sweeping vows: Forcing Mexico to pay for a border wall to keep out undocumented immigrants, banning Muslims from entering the U.S. in the name of national security and dumping President Barack Obama's signature Affordable Care Act.
He drew massive crowds, as well as large-scale protests that repeatedly turned violent.
In his victory speech, Trump extolled the movement that propelled him to his astonishing victory, saying he would unleash the country's "untapped potential" as president.
"It's going to be a beautiful thing. ... The forgotten men and women of our country will be forgotten no longer," he said, pledging to rebuild the country's infrastructure and put "millions of people to work."
Playing up his campaign persona as a commanding, plain-speaking outsider who would blow up politics as usual, Trump finished off his final Republican rival, Sen. Ted Cruz of Texas, in May.
Many of the criticisms Trump survived in the primaries grew exponentially louder as he pivoted to his showdown with Clinton. At a minimum, these included accusations of gross misogyny, unscrupulous business practices, unabashed nativism and lying.
On the road to Election Day, Trump faced damaging news reports on his words and alleged deeds regarding women, his charity or lack thereof and his unorthodox approach to paying taxes.
He and his campaign pushed back against the scrutiny, lashing out at the "corrupt" press and goading his followers to do the same.
It remains to be seen whether Trump's newly conciliatory rhetoric early Wednesday morning would mark the dawn of a new Trump — or, as so often happened in the campaign, it would soon give way to the more brazen messaging his critics derided and his fans cheered.
Ultimately, Trump's brash message of change, if anathema to some, resonated with white working-class voters and allowed him to successfully paint Clinton as a candidate of the past, too embroiled in the insider backslapping of the Beltway to see beyond it.
The 45th president of the United States takes the oath Jan. 20.