Jay Z goes uncensored in a charged Hillary Clinton Cleveland rally with Beyoncé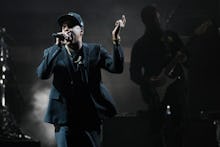 Jay Z was a little less scripted than the candidate he was supporting is known for. 
He casually dropped a number of "motherfuckers" and "n*ggers" to an energized crowd Friday night during his "get out the vote" performance at a Hillary Clinton rally in Cleveland — one of 13 swing states — four days before the election. 
Jay Z was accompanied by his wife and superstar unto herself, Beyoncé, who, along with J. Cole, Big Sean and Chance the Rapper, encouraged Ohians to vote for Clinton on Tuesday. 
Pictures of Beyoncé, Jay Z and Clinton talking backstage immediately went viral on Twitter, including one tweeted by Clinton, in which she quoted Beyoncé. 
"'We have to vote,'" Beyoncé was quoted as saying. "'The world looks to us as a progressive country that leads change.'"
Clinton appeared onstage after the show, introduced by Jay Z as "the next president of the United States." 
"This is what America is, my friends," Clinton called out in a hoarse voice to an audibly energized crowd. She delivered an impassioned address over cheers and applause:
"We have a woman who is an inspiration to so many others. I thank her, I thank Beyoncé for standing up and showing the world we are strongest when we look out for each other. And I thank Jay for addressing in his music, some of the biggest challenges in the country: poverty, racism, the urgent need for criminal justice reform. And remember, Jay memorably said something we should all recall: 'Rosa Parks sat so Martin Luther could walk; and Martin Luther walked so Barack Obama could run; and Barack Obama ran so all the children could fly.' Well, we have unfinished business to do. More barriers to break and, with your help, a glass ceiling to crack once and for all."
Clinton concluded by appealing to viewers — present and virtual alike — to go to the polls, yelling over the crowd, "Love trumps hate."