Melania Trump modeled in the United States prior to obtaining work visa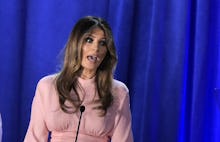 Melania Trump received payment for 10 modeling gigs in the United States prior to obtaining legal authorization to work in the country, according to an Associated Press investigation, a finding that undermines Trump's assertion that she has been "at all times in compliance with the immigration laws of this country."
The Slovenian-born model, now the wife of Republican presidential nominee Donald Trump, was paid $20,056 for the jobs during a seven-week period prior to getting a work visa in 1996, modeling for such clients as Fitness magazine and Bergdorf Goodman, the AP found.
Questions about whether she had always adhered to U.S. immigration law first arose over the summer. In response to a Politico report highlighting gaps in her immigration history, the potential first lady said in August she had "at all times" followed the law.
Given Donald Trump's hard-line anti-immigration message, the story threatened to undermine his White House bid. But while the Trump campaign promised in August that Melania Trump would hold a news conference to clear up questions on the matter, no such news conference has ever taken place.
A poll conducted by the Economist and YouGov in August found that by a 50% to 36% margin, voters considered questions about Melania Trump's immigration status fair game for scrutiny.
The AP report noted that the government may revoke the citizenship of anyone found to have misrepresented their immigration status at any point, although that power is typically reserved only for extraordinary cases and is unlikely to be wielded against Melania Trump, who became a citizen 10 years ago.
Though she has taken on a lower-key role than that typically adopted by candidates' spouses, Trump did emerge this week to deliver a speech in Pennsylvania in which she pledged to combat cyberbullying as first lady — leading many critics to point out her husband's well-documented pattern of engaging in it himself.