Woman who accused Donald Trump of raping her at age 13 drops lawsuit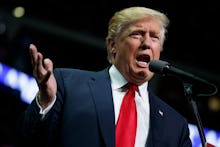 A woman who accused Republican presidential candidate Donald Trump of raping her at a party when she was 13 years old voluntarily dropped her lawsuit on Friday, court documents show.
Lisa Bloom, the high profile celebrity lawyer who had been representing the woman, wrote Friday night on Facebook that her client had instructed her team to dismiss the lawsuit after what had been a "tough week."
"Every woman makes her own choice about what is best for her," Bloom wrote in a separate Facebook post Friday. "Life's a journey. Most of us get stronger as we get older. I respect women."
The woman, who has gone by both Jane Doe and Katie Johnson to protect her identity, had accused Trump in her lawsuit of raping her in 1994 at an orgy hosted by notorious serial sex offender Jeffrey Epstein. 
Earlier this week, the woman failed to appear at a scheduled press conference alongside Bloom, who told the assembled reporters that her client was "living in fear" and that the press conference would be rescheduled.
"She has decided that she is too afraid to show her face," Bloom said. "She's been here all day ready to do it but unfortunately she's in terrible fear." 
Since the lawsuit was filed in April, Trump has maintained that its claims are false, with his lawyer, Alan Garten, telling the Guardian that Jane Doe's story was "a complete fabrication."
"This is basically a sham lawsuit brought by someone who desires to impact the presidential election," Garten said at the time.