Pot legalization gets one of its biggest endorsements yet as Nancy Pelosi backs Prop 64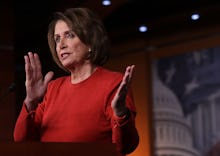 The push to legalize marijuana received one of its highest-profile assists to date on Friday, as House Minority Leader Nancy Pelosi said she would vote Tuesday for a California ballot measure that would legalize pot for recreational use.
The San Francisco Democrat and former speaker of the House told the Los Angeles Times that she would vote for Proposition 64, which polls suggest is likely to pass but has met with a mixed reception among Pelosi's fellow Democrats.
"I will vote for it, but I have not made a public statement about it until right this very second," Pelosi said.
A recent USC Dornsife/Los Angeles Times poll found that Californians backed Prop 64 by a 58% to 37% margin, though not all California Democrats share Pelosi's position. Lt. Gov. Gavin Newsom, a 2018 gubernatorial candidate, backs the measure, but Democratic Sen. Dianne Feinstein opposes it. Jerry Brown, the state's Democratic governor, has yet to take a position.
The overwhelming support for Prop 64's passage dovetails with trends in public opinion nationwide. The Pew Research Center found in October that 57% of American adults support legalized marijuana, while only 37% favor keeping it illegal. In 2006, support for marijuana legalization stood at only 32%, with 60% in opposition.
But while the Pew poll found Democrats backed legalization by a 2-to-1 margin, national Democrats have been reluctant to embrace the cause. Democratic presidential nominee Hillary Clinton opposes a national legalization effort, though she has indicated she won't tamper with states where voters have legalized weed. 
California, which allows medical marijuana use, isn't the only state that may vote Tuesday to legalize recreational marijuana use. Nevada, Maine, Arizona and Massachusetts are also voting on the issue, while voters in North Dakota, Florida, Arkansas and Montana will have their say on medical marijuana.
Alaska, Colorado, Oregon, Washington State and the District of Columbia already have already legalized recreational pot use.