The National Enquirer might have intentionally buried a story about Trump having an affair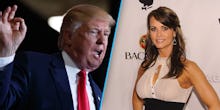 A former Playboy model who claims to have had an affair with a married Donald Trump in 2006 was paid $150,000 for the rights to her story by the National Enquirer — but the paper never published anything, the Wall Street Journal reported.
The Journal reported Friday that according to "people familiar with the matter," Karen McDougal, the 1998 Playmate of the Year, was offered the money from the Enquirer's parent company in August for a story about a consensual affair she had with the Republican presidential candidate more than a decade ago, just over a year into his third marriage (to current wife Melania Trump).
But the Enquirer, a tabloid-newspaper hybrid that has endorsed Trump in the past, never wrote up the account. The Journal dubbed the move a "catch and kill": buying the exclusive rights to a story with the intent to bury it.
American Media Inc., which owns the Enquirer, said in a statement to the Journal the money it paid McDougal was for two years' worth of fitness columns and magazine covers — as well as for the life rights to any relationship she'd had with a married man.
"AMI has not paid people to kill damaging stories about Mr. Trump," the statement said, according to the Journal.
The Trump campaign also denied the allegations, with spokeswoman Hope Hicks calling the accusations of an affair "totally untrue."
But the Journal spoke with several friends of McDougal who all confirmed a relationship between her and Trump had existed, beginning in 2006 and lasting into 2007.
One friend even recalled attending the Miss Universe pageant with McDougal in 2006 as Trump's personal guests, riding in his private limousine and sitting front-row alongside music producers Quincy Jones and David Foster. 
If the Journal's allegations are true, the scandal amounts to more than just infidelity on the part of Trump. If the Enquirer did, in fact, attempt to shield Trump's campaign from a damaging story, the paper has tread into murky legal waters since, as Jezebel's Gabrielle Bluestone points out, the $150,000 payment could be interpreted as an unreported campaign donation.