Clinton campaign ramps up effort in late-breaking battleground states with 3 days to go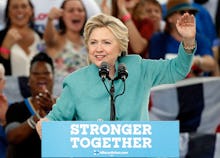 PHILADELPHIA — With just three days to go before the election, the Clinton campaign is rapidly shifting focus away from early-voting states and toward states where most voters will cast ballots on Election Day, including Michigan, once thought to be a Democratic stronghold.
Hillary Clinton's campaign manager Robby Mook told reporters aboard the Clinton campaign plane on Saturday that upcoming events in Pennsylvania, Ohio, New Hampshire, Michigan and North Carolina are a reflection of the fact that the majority of voters in states like Florida and Nevada have already cast ballots.
"The important thing with Michigan is that [voting] is primarily on Election Day," Mook said when asked why the candidate is visiting the state. "In Florida, only 40% of the vote is left. In Arizona, probably only 20-something percent of the vote is going to be left. In terms of just touching a raw number of voters, those are the best places to spend our time," he said later.
For the past several weeks, Clinton and her team have been focused on driving up the number of early votes in states like Florida, North Carolina and Nevada. Their effort has largely worked — nearly 40 million votes have already been cast, and Clinton holds a wide lead in several states in polls of those who have already voted.
Michigan, which Clinton lost narrowly to Sen. Bernie Sanders in the Democratic primary, was once considered to be firmly in Clinton's column. But Mook said "have seen tightening in the Midwest generally this cycle" and will deploy both Clinton and President Barack Obama to the state on Mondayto reinforce support.
"The numbers have tightened," he said. "I feel very confident about how we're going to do, but again — I feel confident about Pennsylvania and New Hampshire as well — but we're spending a lot of time there because most of the voters are going to make the choice at the last minute because they can't vote until then."
Clinton will visit Grand Rapids on Monday as part of a six-state swing that will conclude with a midnight rally in Raleigh, North Carolina, a Clinton official said. Obama will head to Ann Arbor earlier in the day before joining Clinton at an event in Philadelphia in the evening.
Clinton's schedule over the final days of the campaign is a stark contrast with Donald Trump's itinerary, which covers states he has little chance of winning, including Minnesota, which has not voted for a Republican since 1972. Mook said this was a reflection on how the two campaigns have been run.
"Looking at Trump's schedule versus our schedule is pretty emblematic of how we're approaching this strategically," Mook said. "Trump is basically going everywhere over those last few days and cramming in every single state. As far as I'm concerned the more time he spends in Minnesota and Nevada the better. We have tried to calibrate our schedule to be in states at the peak time for voting.
Coupled with a new focus on non-early-voting battlegrounds, Clinton is marshaling celebrity supporters and high-profile surrogates to blanket the states for free events where the campaign can sign up volunteers and make contact with voters to remind them to turn out on Nov. 8.
On Thursday, 5,200 supporters turned out in North Carolina to see Pharrell and Sen. Bernie Sanders alongside Clinton. On Friday, the former secretary of state closed out a two-hour long star-studded concert featuring performance by Jay Z, Beyonce, Chance the Rapper, Big Sean and J Cole. She is set appear on Saturday at a concert in Philadelphia headlined by longtime supporter Katy Perry, and LeBron James will make a joint appearance with the candidate on Sunday.