Presidential Polls 11/6: Clinton leads Trump by 5 points before Election Day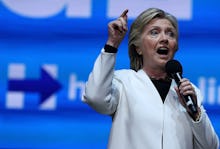 With just two days to go until the general election, Democratic presidential candidate Hillary Clinton is ahead of her Republican rival Donald Trump in the polls nationally by 5 points, a new Washington Post/ABC News tracking poll has found.
The surge in popularity comes just a week after her poll numbers ran roughly level Trump in the wake of the FBI's announcement that they were investigating newly discovered emails related to Clinton's tenure as secretary of state.
Although Clinton has a clear advantage, the Post notes, her popularity is still lower than what Barack Obama maintained during his 2012 bid for reelection.
Another interesting statistic included in the Post/ABC poll lies in the percentage of voters who are supporting each candidate for their campaign, and the percentage of voters who are supporting them mainly out of opposition for their opponent.
In Clinton's case, 55% of her likely voter base said that they would be "mainly supporting Clinton" when they cast their ballots. Trump, in contrast, has a 51% majority of his likely supporters who say that a vote for him would mainly be to "oppose Clinton."
The poll also queried respondents on which candidate they preferred across five traits that have become key talking points during the 2016 election: honesty, empathy, qualifications, moral character and temperament.
A majority of respondents said that they favored Clinton on four out of those five characteristics, with Trump maintaining an edge — 44% to 40% — on only one: honesty.