Trump aide retweets false claim candidate was almost assassinated at Nevada rally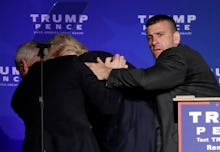 Donald Trump was delivering a campaign speech in Nevada on Saturday night when a scuffle suddenly broke out on the floor at the base of the stage. Witnesses say they heard someone in the crowd shout, "gun!" and in moments Trump was being whisked offstage by Secret Service agents, returning to finish his remarks a short time later.
A thorough search of Austyn Crites, the man who was apprehended, turned up no weapon — the only thing he'd been armed with was a "Republicans against Trump" sign, Crites told reporters after he was released from custody, according to CNN. 
But to hear the Trump campaign tell it, the candidate had basically defied death itself.
Shortly after the incident, Dan Scavino Jr., Trump's social media director, and Donald Trump Jr., the Republican nominee's son, both retweeted a message from a supporter who sought to use the incident as evidence of Trump's machismo.
"Hillary ran away from rain today. Trump is back on stage minutes after assassination attempt," the retweeted post read.
In the Trump campaign's version of events, the Republican candidate is a hero and a martyr, bravely soldiering on with his speech in the face of imminent danger. But Crites paints a different picture, one that shows yet another instance of Trump's supporters inciting violence against a peaceful protestor in their midst.
"All of a sudden, because they couldn't grab the sign, or whatever happened, bam, I get tackled by all these people who were just, like, kicking me and grabbing me in the crotch and just, just beating the crap out of me," Crites told local station KRNV. "And somebody yells something about a gun, and so that's when things really got out of hand."
CNN reports that Crites was released later that evening without any charges being filed against him.
Later in the evening, Trump took the time to issue a statement thanking Secret Service members for their quick response to the situation.
"I would like to thank the United States Secret Service and the law enforcement resources in Reno and the state of Nevada for their fast and professional response," he said. "I also want to thank the many thousands of people present for their unwavering and unbelievable support. Nothing will stop us — we will make America great again!"