Kate McKinnon and Alec Baldwin drop the gloves — and the act — in a rare 'SNL' cold open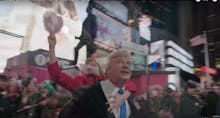 On Saturday night, the presidential election finally broke one of the only good things we had left: Saturday Night Live.
The cold open for the show's Nov. 5 episode began with the usual fare: a splitscreen of cast member Kate McKinnon in her Emmy-winning role as Democratic presidential nominee Hillary Clinton and Alec Baldwin in his recurring guest role as Republican nominee Donald Trump.
The jokes hit all of the usual beats, lampooning in equal parts Trump's "deplorable" base (he smooches a Ku Klux Klan member at one point) and the hit Clinton's campaign took in the polls after the FBI announced that it was investigating newly discovered emails related to the candidate's tenure as secretary of state.
"Yep, it has been a great week for me too, my fave part was when I lost that big huge lead I had," McKinnon snarks as Clinton.
But right around the halfway mark, just as his character is railing against Clinton for being the "most corrupt presidential candidate in history," Baldwin drops the act mid-sentence
"I'm sorry Kate — I just hate yelling all this stuff at you like this," he says, addressing his fellow comedian.
"Yeah... I know, right? This whole election has been so mean," she replies.
The bit's resonance dovetails with the overwhelming sense among voters in the United States that the 2016 election has been particularly venomous in nature. In just a few short months, we've seen crowds engaged in "Lock her up!" chants; the mainstreaming of horrifyingly xenophobic, racist and misogynistic world views; and the callous use of sexual assault and rape allegations as political currency.
Saturday Night Live's answer is to have McKinnon and Baldwin clasp hands and run offstage, segueing into a pre-taped montage of the two cavorting with hot pretzels and their fellow Americans in Times Square.
When they finally rejoin each other back at 30 Rock, their message to the audience is simple:
"And now it's time to get out there and vote," Baldwin says. "None of this will have mattered if you don't vote."