Presidential race 2016: Where to watch the live results on Nov. 8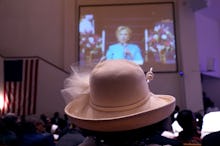 Tuesday is Election Day, and that means the unthinkable is about to happen: After more than 19 months, the 2016 presidential election will finally come to an end.
Before you pop the champagne, though, there's one more anxiety-inducing hurdle left to clear — tallying the votes themselves.
No cable subscription with which to watch the minute-by-minute updates, you say? No fear. As the results pour in on Tuesday night, here are the places you can turn to for live updates. You might not be calm, but at least you'll be informed.
Facebook
News giants, including CNN, the New York Times, ABC News, Vox and PBS, will all be broadcasting the results on Facebook Live, according to Variety.
YouTube
The video service will be participating in its own hosting responsibilities, partnering up with the like of NBC News, MTV News, Bloomberg and others to offer live streamed election results.
Beginning at 7 p.m. Eastern, separate feeds from each individual partner will go live, meaning it's up to you to decide whether you'd rather have PBS or The Young Turks narrate the apocalypse for you, more or less. 
Twitter
Buzzfeed has chosen to partner with Twitter for its livestream coverage, which will be available at election.twitter.com on Tuesday night.
This stream will also feature a scrolling side bar of tweets, for those who like to keep their bite-sized insights and reheated rigged election jokes handy.
CNN Digital
If you have a computer or a cell phone, you'll be able to stream CNN's "Election Night in America" coverage from 4 p.m. to 4 a.m. Eastern, no cable subscription necessary.
With this many options, there's really no excuse not to tune in on election night — unless, of course, maintaining your sanity is something that you're passionate about.