FBI Director James Comey clears Hillary Clinton after new review of emails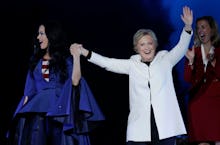 Hillary Clinton will not face any charges over her use of a private email server, after FBI Director James Comey announced on Sunday afternoon that a review of new emails potentially tied to her server did not change the FBI's position on the matter.
"We reviewed all of the communications that were to or from Hillary Clinton while she was Secretary of State. Based on our review, we have not changed our conclusions that we expressed in July with respect to Secretary Clinton," Comey wrote in a letter to Republican members of Congress.
In July, Comey said that while Clinton had been "extremely careless" with her use of the server, "no reasonable prosecutor" would bring a case against her.
Comey's announcement comes two days before Election Day, and throws a wrench into Donald Trump's closing argument.
Since Comey threw a bomb into the race 11 days before the election by announcing a new review of potential Clinton emails, Trump has asserted that Clinton would be indicted over the server.
It was a claim that was never based in fact, but, given Comey's opaque statement, could be viewed as believable by the voting public.
If anything, Comey's announcement could only serve to anger Trump in the final days of the race.
Trump's top aides have taken away Trump's access to Twitter and have tried to keep their restless candidate on message, according to a report published Sunday by the New York Times.
Comey's last-minute announcement could break Trump's cool, bringing him back to his message of a "rigged" system.