2016 Presidential Polls: Who's winning in Florida, North Carolina, Ohio and more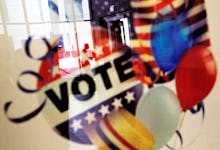 With Election Day less than 24 hours away, many voters may be turning to the polls to see where their candidate of choice stands. While Democratic nominee Hillary Clinton is leading her Republican rival Donald Trump nationally as of Nov. 7, polls in certain swing states like Florida, North Carolina and Ohio are not as cut and dry.
Florida is pretty much tied.
Florida, which has 29 electoral votes up for grabs, is slightly leaning in Clinton's favor — but not by much. A RealClearPolitics average of polls has Clinton at 47.7% to Trump's 46.8%, which is a statistical tie. 
Clinton may have the overall edge, however, as she is leading Trump in early voting, according to the Los Angeles Times.
Trump is favored to win Ohio.
Nate Silver's FiveThirtyEight blog has Trump at a 64.2% chance of winning the state's 18 electoral votes. Although the race is tight, RealClearPolitics has Trump up nearly 2 points in an average of polls. Trump is at 46.6%, while Clinton is at 45%.
Both candidates have made a push for Ohio in recent days, Clinton bringing Cleveland Cavaliers star LeBron James on stage during a rally in Cleveland on Sunday and Trump rallying in Ohio Nov. 4.
North Carolina is leaning in Trump's favor.
In the swing state of North Carolina, Trump has the slight lead, 47.8% to Clinton's 46%. FiveThirtyEight gives Trump a 50.4% chance of winning the state, but Clinton is certainly not far behind.
So, who's winning on Nov. 8?
According to Silver, Clinton has a 66.9% chance of winning the presidency. The New York Times' election forecast is even more optimistic in Clinton's favor, giving her an 84% chance of winning on Tuesday.
With pretty much all of the final polls in, we will have to just wait and see what happens on Election Day.