Janet Reno, first woman U.S. attorney general, dies at 78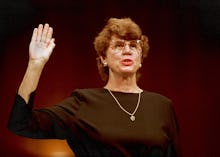 Janet Reno, the first woman to serve as United States attorney general, died early Monday morning, the New York Times reported. She was 78.
Reno died in Florida from complications from Parkinson's disease, which she had battled since 1995, according to the Times.
Reno was nominated attorney general by former President Bill Clinton in 1993, and was confirmed by a unanimous 98-0 vote to become the first woman to serve as the nation's top law enforcement officer.
During her time as attorney general, Reno had her fair share of scandals.
She appointed Ken Starr as an independent counsel to investigate Bill Clinton. Starr's tenure helped lead to Clinton's impeachment over his affair with then-White House intern Monica Lewinsky.
And in 2000, a custody fight over a Elian Gonzalez, a 6-year-old Cuban refugee, became an international incident.
Reno served as attorney general for the entirety of Clinton's tenure in the White House.
After her time in the role ended in January 2001, she returned to Florida, where she ran for governor in 2002. She lost the Democratic primary by a razor-thin margin.
While attorneys general are usually more buttoned-up and even obscure, Reno made her way into pop culture thanks to Will Ferrell's recurring portrayal of her on Saturday Night Live.
SNL poked fun at Reno's physical stature (she was 6-feet-2-inches), a portrayal Reno embraced, appearing on the program to show she knew how to have a good time.