Philadelphia's transit strike just ended — here's why that's a big deal for Election Day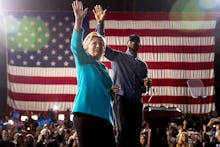 Workers for SEPTA — greater Philadelphia's public transportation system — ended their strike on Monday, a move that's leaving Democrats in the state breathing a sigh of relief one day before voters head to the polls in the battleground state of Pennsylvania.
Philadelphia and the suburbs that surround it are key to a Hillary Clinton victory in the Keystone State. The diverse voters in the city, as well as educated white voters in the suburbs, are two crucial parts of Clinton's coalition that she needs to turn out in order to win the state.
And if SEPTA workers hadn't ended their strike, hundreds of thousands of voters who live and work in the city could have been stuck in traffic or snarled in long commutes thanks to the lack of public transportation, potentially impeding their ability to vote and leading to disaster for Clinton's path to the White House.
"I'm relieved," Rep. Brendan Boyle, a Democrat whose district includes both the city of Philadelphia and parts of the suburbs, said in an interview. "I actually had about a 45-min meeting last night with my brother and some others to attempt to game out what the strike might cost us."
As late as Sunday night, it was unclear whether SEPTA employees would return to work.
There was enough concern over the strike's potential impacts to voters that the city of Philadelphia filed a temporary injunction Sunday evening to try to force SEPTA employees to work on Election Day.
Now that the strike is over, Democrats are working to turn out their voters in the city — where they'll try to run up the score to overtake the surge of Donald Trump voters in the more working-class sections of the state. Without winning Pennsylvania, Trump's path to 270 Electoral College votes is likely non-existent.
With almost all of the state's vote cast on Election Day, Clinton will hold her penultimate pre-election rally in the city Monday night at Independence Hall — a symbolic rally spot where she'll be joined by former President Bill Clinton, President Barack Obama and first lady Michelle Obama.
Rock icon and staunch Democrat Bruce Springsteen will also perform.
Clinton currently holds a 2.4% lead over Trump in the state, according to the RealClearPolitics four-way polling average.
In 2012, GOP nominee Mitt Romney also tried to make a last-minute push for the state, holding a rally with tens of thousands of voters on Election Day eve.
But Romney lost the state to President Barack Obama by a 5.4% margin — nearly 2 points more than the final RealClearPolitics average showed.