Lady Gaga calls for fans to vote for Hillary Clinton with a suffragette-inspired outfit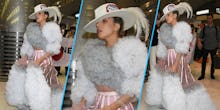 Throughout her storied career, Lady Gaga hasn't been shy about using fashion to make a political point. 
That meat dress she wore to the 2010 MTV Video Music Awards was meant to urge the military to stop discriminating against gay individuals. The coat constructed of Kermit the Frog dolls she wore in 2009 was supposed to make a statement about not wearing fur. That oversized dress she wore in 2012 was in response to comments about the tabloids' obsession with her weight gain. 
And two days before the election, Lady Gaga used fashion to get across a political point once more. This time, it involved Gaga wearing a suffragette-inspired outfit through Narita International Airport in Tokyo in an effort to remind her fans to vote for Hillary Clinton. 
By wearing the puffy sleeves in white, the big hat and the full skirt that was associated with suffragette fashion, it was clear that Gaga was going for a deconstructed suffragette look that'd probably make women like Emmeline Pankhurst, Elizabeth Cady Stanton and Ida B. Wells very proud.
But of course, Gaga wasn't just stepping out in all that tulle to call attention to the fact that our presidential election is mere days away. She was doing it in order to draw attention to the fact that, for the first time ever, we can (and should, according to her) vote for a woman. 
On her Twitter Sunday, Gaga wrote, "Young people listen up. We need to mobilize now, #VoteHillary, and stop this dangerous man from continuing to divide and wreck our democracy," and posted a photo of herself with a big "Vote" button on her feathered hat. 
The tweet came hours after Gaga called out Donald Trump's wife, Melania Trump, on Twitter for being a hypocrite after she said she'd stand for "anti-bullying." 
And Gaga certainly isn't the first woman this election year to make a nod to suffragettes with fashion. Notably, Hillary Clinton wore a white pantsuit when she accepted the Democratic nomination. 
But with anything she wears, Gaga made sure to take the look one step further, making the point to ditch the constricting corset, which was typical for women to wear in the early 20th century. 
So really, this was Gaga creating her own modern spin on the suffragette look. 
If only Ida B. Wells could see this now.