Boycott Trump app helps you avoid all businesses affiliated with Donald Trump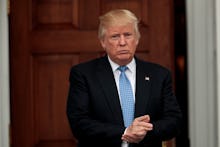 Consumers who want to boycott President-elect Donald Trump now have a tool to make their financial protest easier: a free smartphone app. Created by the Democratic Coalition Against Trump, the Boycott Trump mobile app provides a complete list of companies that are affiliated with Trump and his businesses.
"This app is a first step in our larger Boycott Trump campaign, which will feature a unified grassroots movement centered on holding companies and individuals that help Trump in any way accountable," Nate Lerner, executive director of Democratic Coalition Against Trump, told the Huffington Post.
Each company is alphabetically listed within the app, and selecting on the business name pulls up a small description explaining its connection to Trump. There is also a search function allowing users to manually check if a given company is affiliated with the president-elect.
The app lists more than just businesses that Trump owns. For instance, Starbucks makes the list for having stores in the Trump Towers, and a handful of retailers (e.g., Bloomingdale's, Nordstrom, Macy's and TJ Maxx) are on the app for selling Ivanka Trump's clothing, shoes and accessories line.
Also included are organizations and businesses that have directly or indirectly endorsed Trump. Liberty University, for example, secures a spot in the app since its president, Jerry Falwell Jr., endorsed Trump, and Snapple and Groupon are listed for being sponsors of NBC's Celebrity Apprentice. Meanwhile, CBS reality competition show Survivor makes it onto the app after the show's producer, Mark Burnett, "refused to release footage from The Apprentice of Trump making heinous comments," according to the app.
"The campaign is all about empowerment ... By doing so, we aim to give people a safe and productive way to voice their disapproval of Trump," Lerner told the Huffington Post. "We've accepted Trump won the election but that doesn't mean we have to accept everything he stands for."
One of the first calls for a Trump boycott came after the president-elect's notorious "locker-room talk" debacle in October. Marketing specialist Shannon Coulter created the hashtag #GrabYourWallet to call on consumers to boycott Ivanka Trump's fashion line. Coulter's campaign has since expanded to include retailers that are affiliated with Trump and has an official website to serve as a resource.
The Boycott Trump app is available for free on iOS and Android devices.