Alicia Keys 'Here' Review: Keys' trades hooks for protest poetry, and makes it work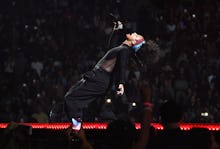 Alicia Keys has lived her 2016 like it might be all of our last on Earth.
From speaking to the Black Lives Matter movement in Mic's "23 Ways" video, to her dramatization of the refugee crisis in her "Let Me In" short film, to the extended ode she's made towards body positivity with her #NoMakeup campaign — Keys has brought passion to the way she merges art and activism that proves she's not in it for the headline grab. We're not going down without a fight to the reactionary forces of the world, her work seems to say.
It's all led up to Here, Keys' sixth studio album, one she describes as her "most raw and honest creation yet." It's an album that breathes with the same urgency and vibrancy as all her previous works, and it comes off as one of the more adventurous top-billing R&B albums to drop this year. 
Sonically, it seeks to unite gritty New York boom-bap of Nas and Jay with pop's dogmatic devotion to melody. Lyrically, it aims for the beatnik protest poetry that thrived in downtown NYC long before hip-hop. Both goals find themselves tempered by pop's necessary candor, of course. But the album's imperfections seem to only add to the overtly candid image Keys is curating for herself.
This is Keys positioning herself as an evolving agent of change in the most off-the-cuff manner she can, living in a world that desperately needs a hero.
Keys discussed the changes she's gone through opening into the Here era with Mic and a group of journalists at her 13th annual Keep a Child Alive Black Ball event in New York City, where she raised $2 million for AIDS relief. All the changes to her sound and her new Afro-empowered, no-makeup look seem to have sprung from a change in consciousness.
"I've found a way to chose to be more quiet, and take more time to listen to my own self, as opposed to getting drowned out by all the noise," Keys said. "What do you think that hasn't been given to you by 100 different places? That is the biggest change in me, and that's given me a sense of who I am and what I want to say, how I want to look and what is important to me."
This new mindfulness has brought out songs like "Kill Your Mama" — an ecocide anthem in which Keys mourns the fact we've poisoned Mother Nature's waters and dug up its resources — and "Holy War" which ends the album with a devastatingly simple ask for love in a "twisted" world where "war is holy and sex is obscene."
Keys' symbols are as blunt as they were in her "Girl on Fire" days. The only difference is her writing is far more confident facing polemical topics. The artist has no fear of the backlash she might saving space for an ode to a Black Panther chairwoman, as Keys does on "Elaine Browne (Interlude)," or narrating a gay woman's coming out in "Where Do We Begin Now."
The problem is though, the importance of the subjects Alicia Keys tackles often overshadows the strength of the songs themselves. "Holy War" offers way more food for thought than it does musical thrills. 
Similarly, the dedication to making sure New York City's grit is represented in every track makes for the occasional sonic dud. Keys doesn't sound comfortable singing over the endlessly looping boom bap of "More Than We Know." But she's got to talk truth and rep New York City, whether it strangles her music or not.
This is always the problem with artistic reinventions that are easy to sum up with simple soundbites like "raw and honest" and "all about New York" as Alicia Keys has offered. One can see those intentions a little too clearly in some of the tracks, like a sketch artist neglecting to erase the initial grid for the final product.
Also, where does it leave those fans that liked "Girl on Fire" or "No One"? They both may formulaic and maximized for soaring balladeer impact, but they're great anthems. What if fans don't vibe with the gritty New York boom bap and blues? Are they not real enough for the new Alicia? 
Perhaps not. Perhaps they'll come around. One thing the album does do, to its eternal credit, is leave the door open. It's warm; it's welcoming. It's clear the artist loves these songs and earnestly wants others to take up their calls to action. Alicia may not have made the song that will teach the world to love again, but for the artist that will, they'll have Here to help them figure out where and how to start.