9 times celebrities used fashion to show their support for Hillary Clinton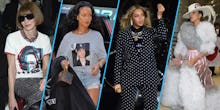 Celebrities haven't exactly been shy about endorsing Hillary Clinton. Some of her high-profile fans include Cher, Bette Midler, Oprah Winfrey, Lady Gaga and, as of just recently, Beyoncé and Jay Z. 
But rather than just campaigning for the female nominee or speaking their mind on social media, some stars have looked to fashion to express their support. 
From women like Anna Wintour to Rihanna to Kendall Jenner, stars have gotten creative over these past few months in ensuring their fans that they are strongly #WithHer.
Here is a ranking of nine of the best times celebrities really stepped it the fuck up to show their support for Clinton through fashion. 
9. Anna Wintour
Before the primaries were even over, Vogue editor-in-chief Anna Wintour wanted everyone to know that she was #WithHer. 
In a political display that was unexpected from the usually silent editor, Wintour showed up to the Marc Jacobs show in February at New York Fashion Week and sat front row wearing a Hillary Clinton T-shirt, which just so happened to have been designed by Jacobs, as well. 
A little more than six months later, Vogue would officially endorse Clinton, too, marking the first time the publication ever endorsed a presidential candidate.. 
8. Demi Lovato 
Back in July, Demi Lovato spoke at the Democratic National Convention. Lovato also did some campaigning for Clinton, so it only makes sense that she'd quickly learned to fully embrace Clinton's designer selection of merchandise. 
That same month, she posted a picture of herself in one of Clinton's official $35 T-shirts designed by Tanya Taylor. And in September, when campaigning with Chelsea Clinton, she wore another official shirt designed by Marc Jacobs. 
7. Kendall Jenner 
This was a simple gesture by Kendall Jenner, but with more than 20 million Twitter followers and 63 million Instagram followers (many of whom are millennials), her endorsement had a far-reaching impact. 
Back in February, Jenner posted a picture of herself on Twitter in Marc Jacobs's own Hillary Clinton T-shirt. "Shirt by @themarcjacobs," she wrote. "History by @hillaryclinton." 
Though it's still yet to be seen if Jenner's endorsement will sway any votes, with a fan base as large as hers, it'd be unwise to discount her efforts, or the efforts of her mother, Kris — who tweeted out her support of HRC over the weekend — and her sister, Kim Kardashian West — who's publicly endorsed Clinton, as well. 
6. America Ferrera 
Not only did America Ferrera speak at the DNC and become an avid supporter of Clinton on social media, but she also gave way to what is perhaps the best Clinton-inspired T-shirt of all. 
The T-shirt, which Fererra and many of her friends have been seen wearing on social media, reads "Make America Ferrera Again," because obviously, what's more important than America being great as per Donald Trump is that we all get more America Ferrera in our lives. 
For those interested, the shirt retails for $48, with 20% of proceeds going toward Rock the Vote. 
5. Lena Dunham 
Lena Dunham is perhaps Hillary Clinton's biggest fan; that's been made abundantly clear from the loads of personalized ensembles Dunham has been able to think up these past few months. There was this sweater, and then this dress, and then this dress, and then this denim jacket and then this socks and T-shirt combo. 
But if we had to pick a favorite example that showcased Dunham's undying admiration, it'd be this pantsuit — a black pantsuit (natch) covered in white buttons that spelled out "Vote 4 Hillary" on the back, which she wore all the way back in the primary, back when we were a much younger, purer nation. 
4. Katy Perry 
Look at Perry's Instagram, Twitter, Facebook or really any recent appearance of hers and you'll see that Katy Perry is strongly #WithHer. She's consistently shown up to events dressed in Clinton-inspired attire, such as a Hillary Clinton manicure, a cocktail dress stitched with Clinton's campaign logo and a Nasty Woman T-shirt. She even dressed up as a very realistic-looking Hillary Clinton for Halloween. 
But perhaps her most stunning ode happened just this weekend in Philadelphia, when Perry attended yet another rally for Clinton in a custom sparkly cape that read "I'm with Madam President," designed by fellow Clinton supporter Prabal Gurung. 
"This is the last rally before the election on Tuesday, so it was crucial that we create an unforgettable piece to inspire people across the country," Gurung told Vogue. 
3. Lady Gaga 
Lady Gaga's sartorial ode to Clinton might not be as obvious as slipping on an HRC T-shirt, but if you know just a tiny bit about women's history, then her intention was clear. 
On Sunday, two days before the presidential election, Gaga walked through Tokyo's Narita International Airport in an ensemble that looked a whole lot like a deconstructed suffragette, with white tulle sleeves, a full white skirt and a wide-brimmed hat affixed with a large "Vote" button. 
It was clear that not only was this outfit a call for her fans to vote, but a call for the woman who could be our first female president. 
On Twitter later that day, Gaga wrote: "Young people listen up. We need to mobilize now, #VoteHillary and stop this dangerous man from continuing to divide and wreck our democracy." 
2. Rihanna 
Oh, Rihanna — not even a U.S. citizen, but still using her platform and excellent fashion sense to throw her support toward a candidate. 
Before the third and final presidential debate in October, Rihanna stepped out in New York wearing a gray T-shirt printed with an image of a '90s-era HRC wearing a New York Yankees baseball cap. 
It was essential Rihanna, not only because it was unexpected, but because it was a T-shirt never before seen until Rihanna wore it. (If you're into it, it's still on sale for $35 on Trapvilla.) 
1. Beyoncé
Of course Beyoncé is coming in first place. 
On Saturday, Beyoncé surprised the crowd gathered in Cleveland, Ohio, for a Get Out the Vote concert, storming the stage in a black-and-white polka-dot pantsuit, which we assume Clinton heartily approved. Bey's backup dancers even got in on the fashion ode and wore bright blue pantsuits. And underneath those suits were "I'm with her" T-shirts printed with an image of Beyoncé's signature wide-brimmed black hat from the "Formation" video above the slogan. 
(If you're interested, those shirts are on sale for $23 via Teespring.) 
Bey's husband, Jay Z, also wore a pantsuit that HRC would approve of — but in black, of course. 
After scanning this list, though, there's one thing we'd like to highlight: the lack of men. This year, the women certainly got creative, with Perry's custom goods and Beyoncé's new Clinton T-shirt, but very few men felt inspired enough by Clinton's candidacy to use fashion to show their support. 
Next time around, in maybe just four years, we hope this isn't the case. Until then, the ladies continue to slay the political fashion game.