'Mass Effect: Andromeda' Trailer, Release Date: What's likely to be revealed on N7 Day?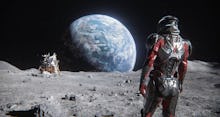 For fans of BioWare's sci-fi franchise Mass Effect, today is a big day. 
Nov. 7, or N7 Day — a reference to Mass Effect's elite military organization, N7 — is a day when BioWare commemorates its sci-fi series through releases of downloadable content and other Mass Effect-adjacent things. 
But this year promises to be one of the biggest N7 Days in a long time. A new trailer for the highly anticipated Mass Effect: Andromeda was released midday Monday, but a few other as-of-yet unknown details might be revealed, too.
New Mass Effect: Andromeda trailer
The biggest thing fans can expect is the new Mass Effect: Andromeda trailer, which is embedded below.
BioWare has already released a slew of trailers that set the tone for Mass Effect: Andromeda — lots of Star Trek-y, exploring-the-frontier kinds of things — but there are still unanswered questions floating around.
The big questions about Mass Effect: Andromeda
Will BioWare double down on the open-world gameplay of its last title, Dragon Age: Inquisition, or will it modify its approach to prevent players from getting tired of an endless chain of relatively inconsequential side quests? 
Will we be controlling both Ryder siblings throughout the game, or will we pick one at the start and control just that one? 
Will both Ryder siblings be on the player's party at once? 
Who's that awesome Asari with the wild face paint? 
What will the multiplayer be like? 
How many years have passed since the original Mass Effect trilogy? 
Clearly, there are lots of questions that remain unanswered — too much for one trailer to answer, probably. However, Ian Frazier, lead designer on Mass Effect: Andromeda, seemed to indicate on Twitter that there'd be more than just a single gameplay trailer dropping. Maybe a developer diary or a new website will answer some of those nitty-gritty lore questions.
Will a Mass Effect: Andromeda release date be revealed?
The other big question hanging in the air is a simple one: When will this thing come out?
BioWare previously said it was hoping to have it out around March 2017, but a listing for a Mass Effect: Andromeda art book on Amazon may have spilled the beans — it lists a simultaneous March 21 release date for both the book and the game itself. Hopefully the new trailer will confirm that.
Mic will keep you updated as the Mass Effect: Andromeda news rolls in.