13 perfect gifts for the peanut butter lover in your life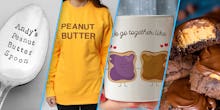 Got a friend who eats peanut butter like it's going out of style? This year, think outside the jar and get them a nutty gift they'll treasure more than a Costco-sized pack of Skippy. 
From an affordable professional peanut butter machine to tasteful yet nutty art, Mic picked the best peanut butter gifts for the peanut butter fanatics in your life.
Editor's note: Prices and product availability are subject to change throughout the holidays. 
A personalized way to spoon with the one they love
Help them up their PB game with a personalized peanut butter spoon ($20). It's ideal for scooping and eating straight from the Jif jar.
A tastebud adventure
For the friend that eats their way through multiple jars of PB a month, the Peanut Butter of the Month Club is the ultimate gift. Each month, your lucky friend will get two gourmet peanut butters in divine flavors like honey-roasted almond and cinnamon currant. The journey will be mouth-watering. (About $66 for three months.)
Portable packs, in case of emergencies
A PB variety pack ($17.50) will please any peanut lover's palate. This gift set from includes portable, all-natural nut butters in unique flavors like vanilla espresso almond butter and chocolate coconut peanut butter. Swoon! 
A scrumptious DIY dessert
Bake them a homemade batch of these buckeye brownie cookies if you're giving on a limited budget. (The cost of ingredients.)
Tasteful decor
Let them broadcast their love for the nut butter in a classy way with this framed New Yorker cartoon. ($62.50)
Peanut butter pullover
This cozy embroidered sweatshirt ($26) is perfect for chilly winter nights when all your friend wants to do is curl up on the sofa with a jar of PB.
This cuppa goodness
This cute peanut butter mug ($15) is an ode to friendship — and it's microwave- and dishwasher-safe to boot! 
A guide to all things PB
Help a PB lover think beyond the humble sandwich by gifting this comprehensive peanut butter cookbook ($15).
Home decor that'll be totally lit
Candles often make mediocre gifts at best, but the gift of the scent of a peanut butter cookie ($26.51) is one your buddy will cherish for as long as the wax lasts. Your friend will think of you every time they light this thoughtful present. 
A must-have kitchen appliance for any peanut butter fanatic 
What's better than a jar of PB? Peanut butter you grind yourself, of course! This professional peanut butter maker ($70) transforms any nut into spreadable bliss at the touch of a button. 
The perfect, mess-free mixer
Any connoisseur of natural peanut butter knows the agony of trying to blend separated oil with peanut butter after opening a fresh jar. A peanut butter stirrer ($16) facilitates this difficult task. 
A toasty way to air one's peanut butter obsession
Keep your toes warm with these PB&J socks ($7.50) that will make your feet look delicious.
A statement piece that says it all
This peanut butter pin ($12) says so much with so little. The peanut butter lover in your life will be ecstatic to wear what's in their heart on their sleeve, backpack or wherever they decide to stick this little, subtle cutie.
This month, Mic Essentials brings you handpicked deals, reviews, recommendations and gift ideas. For more ideas, see our lists for gifts for badass feminists, health and fitness fanatics and jewelry lovers. If you buy something through a link on this page, Mic may earn a small commission.