Scottie Nell Hughes confused "Molotov cocktail" with "mazel tov" cocktail on CNN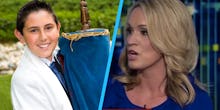 Scottie Nell Hughes just simultaneously invented a meme and wrote a new verse for the next Kanye West song.
On Sunday night, the Donald Trump supporter and CNN correspondent defended Trump for being critical of Jay Z and Beyoncé's public support for Hillary Clinton, citing Jay and Kanye's 2012 music video for "No Church in the Wild." The music video features a Molotov cocktail, a homemade fire bomb made from flammable liquids like booze. 
But instead of referencing the Molotov cocktail, Hughes spoke of a "mazel tov cocktail." Check out the gaffe in the clip below.
Hughes said the video starts off with "a crowd throwing mazel tov cocktails at police." 
"Mazel tov" is a Jewish phrase that roughly means congratulations or good luck in Yiddish, and the phrase isn't a half-bad name for a boozy beverage. While there's no official recipe for the drink, we've mustered up our very own.
Mazel Tov Cocktail
Ingredients:
Instructions:
Unsurprisingly, Twitter had a field day with the news correspondent's gaffe. A sampling:
After being called out for her mistake, Hughes chalked the blunder up to being sleep deprived:
In truth, Hughes' blooper was probably just what news viewers needed in this very nerve-wracking, un-funny election.