Sikh scholar Simran Jeet Singh speaks out against Islamophobic remarks at NYC marathon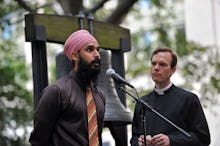 Simran Jeet Singh valiantly finished the New York City Marathon on Sunday, but not without receiving several anti-Muslim remarks from participants and attendees. 
Here's the thing though: Singh isn't Muslim.
Singh, senior religion fellow at the Sikh Coalition, a civil rights advocacy group for the Sikh community, took to Twitter to describe two — out of four – incidents where he dealt with xenophobic hate. In one incident, while Singh reached out for a water cup while running, a woman pulled the cup back and called him a "dirty Muslim." 
In another, a man shouted at other marathon runners that Singh is a member of ISIS and is closing in on them. 
His tweets quickly got the attention of the New York City Marathon organizers and New York Road Runners who worked with him to get more information on the Islamophobic incident. 
"In our eyes, the incidents that occurred are a total outlier in how hard our volunteers and others are working with us together in the marathon," Chris Weiller, a spokesman for NY Road Runners, told Mic in a phone interview. "It's certainly not in line with our values as an organization or the marathon itself."
Singh, who competed in the NYC Marathon for the fifth time Sunday, said this wasn't the first time he's received Islamophobic and racist remarks at the event.
"This year was different in both degree and quantity though — I had more racist and more charged comments than in the past," Singh told Mic in an email. "I think this clearly reflects what we're seeing around this country in terms of the sharp fracturing along the lines of race and religion."
Since the Sept. 11 attacks, the Sikh community has faced anti-Muslim violence in the United States. On Sept. 25, for example, two white men from Richmond, California, attacked 41-year-old Maan Singh Khalsa at a traffic stop. The men allegedly pulled Khalsa's head out of the car window, punched him and then cut up to 10 inches of his hair off.
Simran Jeet Singh also said continuous anti-Muslim attacks on the Sikh community speak to the United States' "collective ignorance and bigotry." According to a 2013 joint survey with Stanford University and the Sikh American Legal Defense and Education Fund, about 49% of Americans think Sikhism is a sect in Islam. Sikhism is, in fact, a religion of its own that originates from India and is the fifth largest religion in the world.
"Our Sikh faith teaches us to stand for justice and to be an ally for anyone who is being oppressed," Singh said. "And speaking for myself, there's something powerful about being put in a position where we have to consciously make the decision to do the right thing and stand alongside our Muslim sisters and brothers during this difficult time."
The Sikh scholar and advocate said that it's important to remember the hatred he received Sunday is not equal to the grotesque hate crimes the Sikh and Muslim communities have experienced in the past 15 years.
"What I experienced is much smaller in scale than the brutal hate crimes that Muslims and Sikhs have endured in New York City over the past few years," Sikh added. "I believe it's critically important that we confront racism in whatever form it occurs because the consequences of not doing so are just too heavy a price for all of us to pay."