The Harvard men's cross-country team made annual "spreadsheets" evaluating female athletes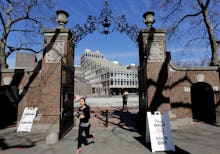 Days after Harvard University canceled the remainder of the men's soccer season in response to the team's annual tradition of rating women's soccer recruits on attractiveness, the Harvard Crimson revealed the university's men's cross-country team had been taking part in similar activities. 
According to "team correspondence" obtained by the student newspaper, members of the men's cross-country team created multiple spreadsheets predicting who members of the women's team would invite to an annual campus dance. Along with their guesses, the men included various comments about the women's appearances.
In a group text, former and current members of the men's team discussed the tradition, recalling how "terrible" past years' spreadsheets had been.
"Hahaha dude 2012 was the absolute worst I saw," one alumnus wrote about the spreadsheets' content, according to the Crimson. "It got tamer each year after that." Another recent grad recalled: "Also 2014 talked about a specific person getting black dick a lot."
Members also discussed limiting access to the spreadsheets, expressing concern that school administrators or the Crimson would discover the documents.
Following the decision to ban the men's soccer team from the rest of the 2016 season, Harvard President Drew G. Faust told the Crimson the administration had to wonder whether the team's "scouting reports" were indicative of a larger problem among Harvard athletes.
"I felt it was important to at least try to get some preliminary notion of, are there people who know of other incidents?" asked Faust. "So the question has not been delved into deeply beyond the soccer team, but I have asked that it at least be raised as a question: Is this wider-spread?" 
After this latest revelation, the answer, it would seem, is yes. 
According to the Crimson, athletics director Robert L. Scalise held a meeting with coaches of multiple Harvard teams to discuss team culture. Additionally, the Office of Sexual Assault Prevention and Response will be working to educate members of the men's soccer team and all Harvard athletes.
The women's soccer team, too, called to move forward and work together toward tackling sexism not just in the school's athletic department but in broader culture, as well. 
"To the men of Harvard soccer and to the men of the world, we invite you to join us, because ultimately we are all members of the same team," members of the women's team wrote in an October op-ed for the Crimson. 
"We are human beings and we should be treated with dignity," they continued. "We want your help in combatting this. We need your help in preventing this. We cannot change the past, but we are asking you to help us now and in the future."