Snapchat update: Election Day-themed filters urge millennials to get out and vote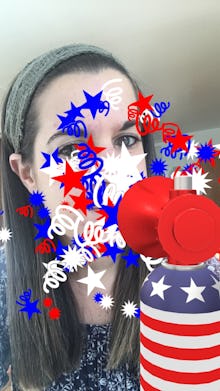 A little reminder on Facebook was responsible for a "significant" impact on online voter registration. Can a Snapchat filter involving raining ballots or exploding red, white and blue confetti do the same? 
Snapchat has given us the option to adorn our faces in politically themed filters in the past, and it's gearing up with a slew of new filters right before Election Day.
There are now two augmented reality filters: a blowhorn of patriotic confetti and "vote" glasses with ballots cascading down the screen. 
There are also two election-themed geofilters you can plaster over your photo: an "I'm With Her" logo sponsored by Hillary Clinton's campaign and an illustration reminding users to go vote tomorrow.
Clinton paid for another sponsored filter — one that lets you turn yourself into the Democratic presidential nominee, pantsuits and shimmy included. 
The filter prompts users to vote for her on Tuesday, citing her slogan, "Love Trumps Hate." This takes a more civil approach than Donald Trump's sponsored filter from the first presidential debate, one that attacked Clinton. "Donald J. Trump vs. Crooked Hillary," it read. Buzzfeed reported that Trump purchased a sponsored filter which will roll out on Snapchat on Tuesday. There are no details yet on what this might look like.
It's a logical move for Snapchat to encourage its users to vote. The app reaches 41% of all 18- to 34-year-olds in the U.S. daily, a Nielsen study reported, according to the Wall Street Journal. Another survey conducted for Variety by Defy Media revealed that 30% of Snapchat users used the app to get news for the 2016 presidential campaign. 
Millennials — people between the ages of 18 through 35 — make up approximately 31% of the overall electorate, NPR reported. It is also the group that has had the lowest voter turnout out of any other age group — just 46% voted in the 2012 presidential election. 
Snapchat is unique in its ability to reach these voters, considering a large chunk of them use the app regularly. What may seem like a silly filter could actually have a considerable impact — one we saw proven with Facebook's voter registration call to action. 
We know you look ravishing as a dog, but perhaps put the pup on the back burner through Wednesday and do your country a favor: Snap your friends a reminder to vote.