Nevada Senate Race Results 2016: Cortez Masto beats Heck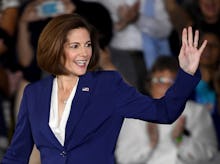 Democrat Catherine Cortez Masto has defeated Republican incumbent Rep. Joe Heck in Nevada's Senate race, according to early election results.
The polls in Nevada's Senate race have been close in the weeks leading up to the election. Heck took a beating among his GOP supporters after he condemned Republican presidential nominee Donald Trump for crude comments he made about women in a leaked 2005 tape.
"I can no longer look past the pattern of behavior and comments that have been made by Donald Trump," Heck said, according to Roll Call. "Therefore, I cannot in good conscience continue to support Donald Trump. My wife, my daughters, my mother, my sister and all women deserve better."
Cortez Masto, former state attorney general, knocked Heck for supporting Trump throughout the campaign.
"What you're seeing now is not leadership, it's Joe Heck trying to save his career, but Joe Heck's made clear that he's with Donald Trump," she said in a statement.
Heck has served three terms in the House of Representatives.
The seat opened up after Democratic Sen. Harry Reid announced he was retiring.
Correction: Nov. 9, 2016