Nicaragua presidential election: Daniel Ortega wins with 72% of vote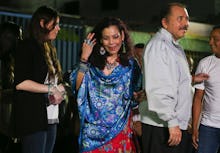 There were few surprises in Nicaragua on Sunday when Daniel Ortega was elected as president for the third time in a row, with 72% of the vote. 
Despite Ortega's landslide victory, there were high levels of voter abstention — though reports vary as to how many voters sat out. At a press conference Sunday night, Roberto Rivas, president of the Supreme Electoral Council, said almost 34.2% of Nicaraguans didn't vote. The opposition party, the Sandinistas Reformist Movement, said the figure was far higher; in a message shared via WhatsApp, the party said abstention was about 70%. 
Ortega will start his new term on Jan. 10, 2017, with his wife, Rosario Murillo, as his vice president. Murillo currently serves as Nicaragua's Secretary of Communications.
The Liberal Constitutionalist Party, with his candidate Maximino Rodríguez shows as the second force with 14.2% of the votes. It's still unclear who will take third place: José Reyes of the Independent Liberal Party received 5% of the votes, and Saturnino Serrato of the Nicaraguan Liberal Alliance received 4.7% of the votes, Rivas said on Sunday. 
The final results of this Sunday's Elections will be known this Monday.