Last-minute, easy Thanksgiving recipes to make when you have more guests than expected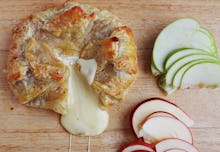 It's a classic Thanksgiving quandary: You prepared a meal for eight and you're suddenly serving 12 or 14 or 24. 
Your cousin and her parents stopped fighting, that couple you can't keep track of is suddenly back together, your brother somehow forgot to tell you he's dating someone, no make that two someones, and a whole group of travelers who missed their flights and are suddenly stuck at home and obviously welcome to your Thanksgiving meal.
But how do you feed all the stragglers? Don't panic! We have some easy Thanksgiving recipes to fuel the whole crew who RSVPs at the last minute. 
Apple cranberry pecan salad
Need to stretch your salad course? This sad requires minimal chopping and prep and it's easy to double or even triple the recipe for a last-minute crowd. Get the recipe here.
Baked brie
This two-ingredient recipe (brie and puff pastry) can be made in a pinch and will disappear into your guests' mouths almost as fast. Get the recipe here.
Twenty minute cranberry orange stir fry
You can't grow your turkey but you can add protein to the meal with pre-cooked pork or even tofu for this quick stir-fry which captures all the flavors of the holiday with just a few stirs of the wok. And no one will forget the Thanksgiving they filled up on stir-fry! Get the recipe here.
Rockin' five ingredient sweet potato turkey chili 
Fill your guests with this easy to make chili that has all the flavors of the season in one single dish. Get the recipe here.
Curried carrot fries
If there's no time left to shop, this four ingredient recipe can be completed in just under half an hour and is perfect to feed the newly announced crowd. Get the recipe here.
Roasted cauliflower with gremolata breadcrumbs 
Just a few minutes of prep and some time in the oven gets you enough cauliflower for six or more hungry Thanksgiving feasters. Get the recipe here.
Lightened up green bean casserole
A bigger crowd means more casseroles and this classic green bean recipe with crunchy shallots on top is sure to please. Get the recipe here.
Traditional red sangria 
If you're making last minute menu additions, keep your guests happy with a large format cocktail that they can sip while they help out. Or chill out. Whatever. Get the recipe here.
Quick and easy apple tart
No need to make an entire new pie for the unexpected visitors! All you really need are apples, brown sugar and puff pastry (which you should always have in the freezer) to make this quick and sweet dessert. Get the recipe here.